Soup should be heralded with a mellow horn,
Blowing clear notes of gold against the stars;
Strange entrees with a jangle of glass bars
Fantastically alive with subtle scorn;
Fish, by a plopping, gurgling rush of waters,
Clear, vibrant waters, beautifully austere;
Roast, with a thunder of drums to stun the ear,
A screaming fife, a voice from ancient slaughters!
Over the salad let the woodwinds moan;
Then the green silence of many watercresses;
Dessert, a balalaika, strummed alone;
Coffee, a slow, low singing no passion stresses;
Such are my thoughts as – clang! crash! bang! – I brood
And gorge the sticky mess these fools call food!
This poem is in the public domain.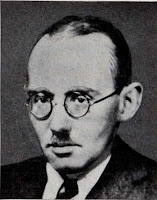 Stephen Vincent Benét (1898 - 1943) was born into a military family for whom poetry was a particular pleasure. Afflicted with scarlet fever as a toddler, his eyesight was permanently damaged, but Steven loved to read and began writing poetry and winning prizes for it while still a child. At seventeen, he published his first book and entered Yale University. During his brief life, Stephen created work in almost every genre of literature, earning two Pulitzer Prizes, a Guggenheim Fellowship, and an O. Henry Short Story Award along the way. His story, "The Sobbin' Women," based on the Roman legend of the abduction of the Sabine women, was the basis for the hit movie "Seven Brides for Seven Brothers."
ghctenmile@earthlink.net:
"...the green silence of many watercresses..." pretty nice!
Posted 01/08/2013 01:59 PM
KevinArnold:
Thanks for pointing me to "The Sobbin' Women," which I enjoyed as well.
Posted 01/08/2013 10:46 AM
marenomitchell:
The most "full of sound" food poem I've read in a long time.
Posted 01/08/2013 10:31 AM
Katrina:
I love this gong of an announcement. Curiously I was just reading about the 'neat turn of a traditional sonnet', which is something that had eluded me and I shall now look out for. Thank you.
Posted 01/08/2013 07:16 AM