Oh, when I was in love with you
Then I was clean and brave,
And miles around the wonder grew
How well did I behave.

And now the fancy passes by
And nothing will remain,
And miles around they'll say that I
Am quite myself again.
This poem is in the public domain.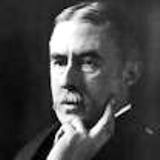 Alfred Edward Housman (1859 – 1936) was an English poet best known for a collective work called A Shropshire Lad, which has remained consistently in print since first published in 1896. A renowned scholar of the classics, Alfred was, for many years, a professor of Latin at Trinity College in Cambridge, where he had a reputation for terrorizing his students and never bothering to learn their names. Widely known and admired even now, Alfred's work is referenced in, and excerpted from, everything from movies to comic books.
Lois:
You must post Housman's "When I was One and Twenty" this month too.
Posted 02/10/2013 10:29 AM
CamilleBalla:
Agreed! :)
Posted 02/10/2013 07:58 AM
Dorcas:
Amazing how we are distorted by physical attraction, infatuation.
Posted 02/10/2013 07:40 AM