This poem is in the public domain.
Many, many welcomes,
February fair-maid,
Ever as of old time,
Solitary firstling,
Coming in the cold time,
Prophet of the gay time,
Prophet of the May time,
Prophet of the roses,
Many, many welcomes,
February fair-maid!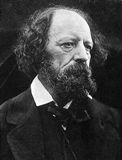 Alfred Tennyson (1809 - 1892) is one of the world's most beloved and enduring poets. Born in a small English village to comfortable, devoutly religious parents (his father was a clergyman, his mother the daughter of a clergyman), Alfred was one of twelve children. He enjoyed an idyllic childhood, though later years brought family issues, and his father's death caused Alfred to have to leave Cambridge without completing his degree. Drawn to poetry from an early age, Alfred's first book of poetry was one he published with his brother when he was still a teenager. He published a collection of his own work shortly thereafter, to very enthusiastic reviews. But three years later, a second book was heavily criticized and Alfred was devastated. Though he continued to write, it was nearly ten years before he published another book. Ultimately, he became England's longest-serving poet laureate, spending more than forty years in that position and producing fine work until he was in his eighties.
RICHARD:
Jayne-- I PREFER nature poems. Keep 'em coming. Thanks!
Posted 02/19/2013 10:32 PM
Dorcas:
The ground hog didn't see his shadow.
Posted 02/19/2013 09:47 PM
tannerlynne:
YES! THIS POEM SAYS SO MUCH AND SO GAILY. It makes me smile.
Posted 02/19/2013 11:29 AM
KevinArnold:
It's hard to over-commend brevity--a lot is said in thirty-six words.
Posted 02/19/2013 08:54 AM
Larry Schug:
You'd think "February fair-maid" would help ol' Alfred look a little less grumpy! It's below zero where I live right now and just thinking of flowers blooming makes me happy.
Posted 02/19/2013 06:58 AM