I walk and meditate, and Iím famished.
My husband returns from swimming laps.
With unplanned synchronicity
we take our places in the kitchen.
He hoards the cutting board,
slices a peach and banana.
I prepare coffee. We pivot for a
choreographed collision at the refrigerator,
him for almond milk, me for an egg and jam.
†
We exchange no words, for
we are dangerous before we eat.
†
With our preparations complete,
I covet his bowl of cereal and fruit,
and he eyes my lightly-over egg and toast.
†
Safely seated in a no-chatter zone,
we take favored newspaper sections.
Earlier I meditated on wherever I go, there I am.
My mantra shifts: wherever I go, there he is.



From†
Biting The Apple,†
by Jeanie Greensfelder (Penciled In, 2012
).
Used here with the authorís permission.
†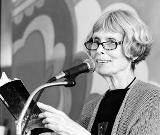 Jeanie Greensfelder is the author of Biting the Apple (Penciled In, 2012) and Marriage and Other Leaps of Faith (Penciled In, 2015. Her poems have been featured on Writers' Almanac and American Life in Poetry. A psychologist, Jeanie seeks to understand herself and others on this shared journey filled, as Joseph Campbell said, with sorrowful joys and joyful sorrows. Jeanie lives with her husband Andy in San Luis Obispo, California, where she volunteers as a bereavement counselor and where she has just been named as Poet Laureate for San Luis Obispo County for 2017 and 2018. Read more of her poems at jeaniegreensfelder.com.
wyantjl42:
Boy, do I resonate with the content of this poem and also with its quiet humor.
Posted 03/02/2013 07:29 PM
Minklady:
One of my favorite poems from your wonderful book... I especially love the line " We are dangerous before we eat."
Posted 02/22/2013 12:48 AM
debrabruce:
I love this. A nice bite st the end--thank you. Debra Bruce
Posted 02/21/2013 03:19 PM
wendy morton:
The sweet ordinary events of life in this celebratory poem. So spare, so true.
Posted 02/21/2013 11:24 AM
Eve:
Ah! Thanks for the smile.
Posted 02/21/2013 11:01 AM
transitions:
enjoyed this most thoughtful poem with it's memorable last line; thx ~ Judy
Posted 02/21/2013 10:54 AM
Glen Sorestad:
A very fine concluding line, Jeanie -- momentarily takes the breath away.
Posted 02/21/2013 09:57 AM
KevinArnold:
Ah yes, the semisweet moments of a long relationship between two careful people, seldom chronicled.
Posted 02/21/2013 09:12 AM
islandspirit:
Wonderful. Gave me an unexpected early morning laugh.
Posted 02/21/2013 08:56 AM