In Possum Land the nights are fair,
the streams are fresh and clear;
no dust is in the moonlit air;
no traffic jars the ear.

With Possums gambolling overhead,
'neath western stars so grand,
Ah! would that we could make our bed
tonight in Possum Land.
This poem is in the public domain.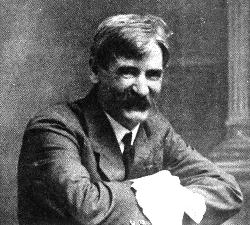 Henry Lawson (1867 - 1922) was born in New South Wales but moved to Sydney as a teenager. Deaf from the age of fourteen due to damage from an ear infection, he was an avid reader who began publishing poetry at the age of twenty. Henry wrote nonfiction and short stories as well as poetry, using Australia's bush country and rural residents as a theme for much of his work; this focus earned him a reputation akin to some of America's "cowboy poets." One of Australia's most celebrated writers during his lifetime, Henry's chronic financial problems and alcohol abuse kept his personal life in turmoil, but he was much beloved by his countrymen, and his death was marked with a state funeral attended by thousands of mourners.
wyantjl42:
There's a symboism here I'm not completely grasping but I like the lilt and tempo of the piece.
Posted 03/02/2013 07:01 PM