The wind is pouting at my window
Come out it says
and wear a hat
© by William Robertson.
Used with the author's permission.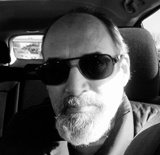 William Robertson started writing poetry when he was fifteen. He has appeared at many open mics, been the featured poet at several, and his work has been published in several magazines and newspapers. His book, Ordinary Things, was published in 2011. William, his wife of 46 years, Faith, and their long-haired dachshund recently moved from Sandwich, Illinois to Garland, Texas, where they're enjoying taking care of their new granddaughter while their daughter works.
wyantjl42:
Succinct but the poem has a pungency and immediacy to it.
Posted 03/02/2013 06:53 PM
msruff:
Wham! Hits you square in the face. Great use of words.
Posted 03/02/2013 01:14 PM
erinsnana:
I love this!
Posted 03/02/2013 01:14 PM
rcstewart3:
...and I'll blow it off to play with you! Love it, Bill. Roberta
Posted 03/02/2013 09:09 AM
KevinArnold:
Ah, Here's to brevity . . .
Posted 03/02/2013 09:03 AM
Donna Pflueger:
William, I had never considered the wind to pout but you have succeeded in adding a new dimension to March and you're absolutely right. I, too, love this poem - it is spot on!
Posted 03/02/2013 08:51 AM