Thread legs work
like a nimble weaver
interlacing yarn
a lattice of death, food
for the coming days.
The desk lamp casts
a sliver of light
through the window
onto the spider
glistening in the night.
The ray captures
the worker
but not his work;
creates an image
of dancing gravity-free
into the dark between
the bougainvilleas.
© by Erle Kelly.
Used with the author's permission.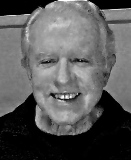 Erle Kelly is a third generation Californian, making his home in Long Beach. Retired from a career in marketing management, his current interests are traveling, cycling and nature--all of which are reflected in his poetry. Erle belongs to a local poetry workshop conducted by Donna Hilbert and enjoys tutoring students in reading and writing at a local elementary school. He finds poetry enriches not only his own life, but also that of the students he tutors.
barbara eknoian:
Erle, you have an observant eye for nature. Nice poem.
Posted 03/07/2013 02:08 PM
mimi:
I love spiders and their art--now if they were just better housekeepers! nice poem, thanks...
Posted 03/07/2013 08:29 AM