My mother stands in this black
And white arrangement of shadows
In the sunny backyard of her marriage,
Struggling to pin the white ghosts
Of her family on the line.
I watch from my blanket on the grass
As my mother's blouses lift and billow,
Bursting with the day.
My father's white work shirts
Wave their empty sleeves at me,
And my own little shirts and pants
Flap and exult like flags
In the immaculate light.
It is mid-century, and the future lies
Just beyond the white borders
Of this snapshot; soon that wind
Will get the better of her
And her marriage. Soon the future
I live in will break
Through those borders and make
A photograph of her—but
For now the shirts and blouses
Are joyous with her in the yard
As she stands with a wooden clothespin
In her mouth, struggling to keep
The bed sheets from blowing away.
© by George Bilgere.
Used with the author's permission.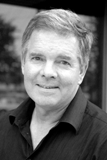 George Bilgere has lived in Japan, Spain, and, most exotically of all, Cleveland. He and his wife spent last summer living in East Berlin. During that time, George says he wrote all his friends to say, "George Bilgere is an artist based in East Berlin," because he thought it sounded extremely impressive. His newest collection of poems, Imperial, is forthcoming this fall from the University of Pittsburgh Press. Learn more about George at http://www.georgebilgere.com.
transitions:
I can still "taste" that clothespin; thanks for bringing it all back so well ~ Judy
Posted 03/14/2013 11:18 AM
CamilleBalla:
Wonderful poem! Great images and excellent metaphors!
Posted 03/14/2013 11:13 AM
marenomitchell:
A finely crafted poem! Thanks for posting.
Posted 03/14/2013 10:57 AM
KevinArnold:
Yes, fine poem. A moment that expands.
Posted 03/14/2013 10:25 AM
John:
Too soon, the wind takes it all, even the ghosts. Strong poem.
Posted 03/14/2013 09:54 AM
Wilda Morris:
What a fine poem! Wonderful images and foretelling.
Posted 03/14/2013 09:38 AM
wendy morton:
The white ghosts!! As a hanger of laundry, this task will never be the same. What a delicious metaphor of a poem.
Posted 03/14/2013 09:33 AM
Ginny C.:
Terrific poem!
Posted 03/14/2013 08:36 AM
KathrynG:
Well, Dr. Bilgere, a joy to find this in my inbox this morning. The quality and consistency of your poetry is inspiring, and this poem is no different. Wow.
Posted 03/14/2013 08:32 AM
Larry Schug:
The power of metaphor to reach where nothing else can is very evident in this visual poem. Great!
Posted 03/14/2013 07:32 AM
Kay Sanders:
I am blown away by this poem, especially the use of the word, "snapshot."
Posted 03/14/2013 07:06 AM
erinsnana:
I love the images in this poem! I remember doing this myself...
Posted 03/14/2013 06:54 AM