Billie Holiday
1915-1959
On "Blue Moon" nights I love to hypnotize
Strangers in smoky nightclubs just like this,
"Too Marvelous for Words" in "Them There Eyes,"
They swoon like I was "Prelude to a Kiss."
"Nice Work If You Can Get It." What I've got,
Oh, no, "You Can't Take That Away From Me."
It's "All Or Nothing At All"—or maybe not—
"I Gotta Right to Sing the Blues" off-key.
"What Is This Thing Called Love?" I cannot find
It in a blessed note a Lady sings.
A life mistreated treats you so unkind,
Left me with "Just One of Those (Crazy) Things"—
A voice that Harlem toned and living tuned,
A voice I carry with me like a wound.
© by J. Patrick Lewis.
Used with the author's permission.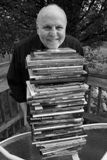 J. Patrick Lewis is the current U.S. Children's Poet Laureate. Author of 80 children?s picture/poetry books and veteran of more than 500 visits to elementary schools around the world, J. Patrick spent many years as an economics professor before becoming a fulltime writer. A resident of Westerville, Ohio, he is a twin, a fact he says "has shaped my life indelibly and delightfully from the womb." J. Patrick is also the author of a collection of poetry for adults, Gulls Hold Up the Sky, and a nonfiction book for teachers. Learn more about him at www.jpatricklewis.com.
dotief@comcast.net:
Beautiful poem!
Posted 04/15/2013 09:23 AM
transitions:
A beautiful lady; another gone too soon and it seems, her inimitable songs as well. Today's music? with it's simplistic repeatitive lyric? - no style - no music at all. I hope the current generation listens and mourns what it has lost...as we do. Never too late for a 'revival' ~ great poem. Judy
Posted 04/07/2013 05:08 PM
LindaCrosfield:
Made me think of the Frank O'Hara poem, too. This is so good. Think I'll go dig out some Billie. Thanks, J.P.
Posted 04/07/2013 01:12 PM
peninsulapoet:
A beautiful poem. Nothing like a sonnet when it works. Another poem I love in honor of Billie Holiday is "The Day Lady Died," by Frank O'Hara.
Posted 04/07/2013 10:07 AM
Janet F.:
Quite a wonderful poem, Pat. Is this a twist on the book spine genre perhaps? I mean song titles so deftly telling the story. Billie Holiday singing the blues. I just want to say "embrace me, you sweet embraceable, you!"..... in the most poetically metaphorical way.... with more of your syncopation, riffs and poetry runs.
Posted 04/07/2013 09:39 AM
MaryLeeHahn:
Love how he used the titles to sing/write this poem.
Posted 04/07/2013 08:23 AM
Janet Leahy:
Let's just say the poem has music! "Nice work if you can get it" will sing in my head today. A poem and music to dance to.
Posted 04/07/2013 08:05 AM
laurasalas:
Wow--what a gorgeous poem. As usual, Pat is so deft with a turn of phrase ("A life mistreated treats you so unkind") AND a turn of sonnet! Melancholy beauty.
Posted 04/07/2013 07:51 AM
Wilda Morris:
Wow!
Posted 04/07/2013 07:50 AM