Under a haze of blue sky, faded and thin,
we'd search the horizon for a distant cloud of dust.

It never failed us. Every two weeks,
always on time, the bookmobile rolled
into the dry dirt lot. A long line of jiggling
bodies waited with simmering patience.

When the door to the trailer finally opened,
and the steps let down, the bookmobile lady
stood a moment, her face a text
of perception as she'd look at us rag-tag kids. 

One by one she handed us a towel to wipe
our sweaty hands. Only then would she allow
us to cross the threshold.

Inside, the fan cooled sun-seared backs,
lifted limp hair from faces as we handled the books,
carefully choosing, extending the time as long as possible.

I tried on Scarlett O'Hara and Nancy Drew.
Had adventures with the Black Stallion and Flame,
lived on the edge of danger and wildness.

But it was Francie who changed my life.

She lived in a Brooklyn tenement, and like the tree
that sprouted between cracked cement,
she encouraged me to push ever upward,
to grow, green and alive.

rancie and I travel together now, back to that time,
the library lady still surrounded with books.

We listen to new suggestions, our excitement rising
along with growing awe and respect for a life-long friend
who's given us choices,
unlimited.


© by Mary Jo Balistreri.
Used with the author's permission.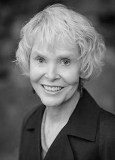 Mary Jo Balistreri is the author of Joy in the Morning, published by Bellowing Ark Press, and the chapbook, Best Brothers, published by Tiger's Eye Press. She is one of the founding members of Grace River Poets, an outreach program of poetry for women's shelters, churches, and schools. Mary Jo's poems have appeared or are forthcoming in MOBIUS, The Healing Muse, Passager, Tiger?s Eye, Ruminate, Verse Wisconsin, Quill and Parchment, Crab Creek Review, and others. She recently placed first for essay in the Wisconsin Writers Jade Ring Contest, and is the recipient of a Pushcart Nomination in poetry. 
tiddles:
You make such great word choices: "simmering patience," "text of perception," "to grow, green and alive." When my daughter, now 32, moved to Brooklyn, I gave her my old copy of Francie's story. Wonderful poem, Mary Jo. Marilyn Zelke-Windau
Posted 04/18/2013 04:43 PM
rksanders@charter.net:
Beautiful, evocative. Thank you,Mary Jo.
Posted 04/18/2013 06:20 AM
sinkey:
from Mary Lou: There's always a gentle beauty to your poems. I love the way the poem expresses pleasant memories from the past and how they are a part of you forever. This was so pleasurable to read.
Posted 04/17/2013 08:56 PM
becky evans:
A beautiful, vivid poem that evokes each reader's memories of childhood connecting with books or libraries. (For me, the title is very important, and the poem recalls one of the hottest summers on record, 1936, that I spent on a farm in Missouri and was caught in a dust storm.) So what I especially appreciate in this poem is the contrast between the arid, hot summer on the prairie (possibly with few trees), with its dust and dirt, where the unkempt, sweaty kids are thirsty for that other world of books, and the lush green landscape of growth the poet's child-self experienced by identifying with her favorite heroine, Francie, after "trying on" like a garment, other, less favorite heroines. What I find stunning is that the transformative childhood reading experience remains vivid today, still "green and alive."
Posted 04/17/2013 07:29 PM
Anjie:
I love the details about the jiggling bodies and lady making the kids wash their hands. The scene is very real in my mind. Thank you, Jo, for a slice of life I wouldn't have known otherwise.
Posted 04/17/2013 05:22 PM
fcarlb:
Thoughtful and sensitive walk through early childhood experiences that shaped one's life.
Posted 04/17/2013 03:20 PM
Irene Fick:
Thoughtful, lovely insights into how important reading was, especially if you were an introvert. Love the language, the line breaks and how the poem just flows. Thanks for sharing. Irene Fick
Posted 04/17/2013 01:57 PM
chris schulz:
"like the tree that sprouted between cracked cement, she encouraged me to push ever upward" what beautiful lines and image!
Posted 04/17/2013 01:39 PM
transitions:
This wonderful poem brings back childhood trips to the library without which life would have been limited to backyard & playground summer adventures. With books I went anywhere I chose to go, so unlike my life. I think, in many ways, they saved it. Thanks again, Jo, for a true vision of living ~ namaste, Judy
Posted 04/17/2013 12:57 PM
tomhoyer@aol.com:
My bookmobile was the Chinese red built-in book case in our family room, its titles somehow managing to remain incognito until I got old enough to read them. For me it was Tom Sawyer and Huck Finn and even then I suspected that though being Huck would be grand, I'd end up like Tom -- subversive, wily, but vested in the society that made me. We both learned how to grow in spite of the environment. A good thing. Tom Hoyer
Posted 04/17/2013 12:37 PM
Wilda Morris:
A fine reminder of the importance of libraries and how some of the books we read as children stay with us the rest of our lives!
Posted 04/17/2013 12:03 PM
Heather Poultney:
A beautiful poem. I, too, went on adventures with Nancy Drew.
Posted 04/17/2013 11:53 AM
Kathleen :
Kathleen Carroll: This poem evoked childhood memories of the book mobile that used to come into our neighborhood. I loved the vivid details in this poem, Mary Jo. And Francie was one of my childhood heroines. Thank you for such a wonderful journey into my past!
Posted 04/17/2013 11:50 AM
livingthepoem:
A lovely poem, flowing with the textures and pleasures of a simpler time. Many thanks for sharing it.
Posted 04/17/2013 11:41 AM
Nancy Simpson:
Love this poem. The book mobile welcomed my family to Hayesville when we first moved to the NC mountains in the sixties. My husband and sons always came home to Cherry Mountain with an armload of books. Working in town, I walked to the Moss Memorial Library once a week to check out my books. The bookmobile still travels here in our mountains. Still in the Southern Appalachian Mountains, there are readers who cannot get to town.
Posted 04/17/2013 08:17 AM
Janet Leahy:
To close a library should be a crime, we need the bookmobile lady in today's world, thanks Jo, for a wonderful poem.
Posted 04/17/2013 07:24 AM
lafayette:
I lived on an eastern NC farm and I still remember the visits of the book mobile. My mother would select four books for me and I was allowed to choose the fifth. I remember the intense scrutiny in choosing a book. Hire someone who reads.
Posted 04/17/2013 07:00 AM
gailcomorat:
My mother didn't drive, so the bookmobile was my only link to books in the summer. I'm sending this poem to my best friend. We rode our bikes together to the nearest bookmobile stop—two "rag-tag" girls hungry for stories to read! Thanks for the memories, Jo!
Posted 04/17/2013 06:42 AM
mimi:
though it wasn't a bookmobile, it was the wonderful old building from Civil War days, with the Union soldier statue at the top-my joy and refuge of childhood--wonderful poem... -Sharon Auberle
Posted 04/17/2013 06:41 AM
jruthanderson@yahoo.com:
Thank you For bringing back wonderful memories of my childhood
Posted 04/17/2013 06:31 AM
paula:
We had a bookmobile too. I remember the books, the way the check out man corrected my 7s and the singular smell. Great poem.
Posted 04/17/2013 06:23 AM
vscholtz:
Such a true picture of such a wonderful service. Our Book Mobile was a mysterious, musty treat all summer long. Thanks!
Posted 04/17/2013 06:16 AM
MaryLeeHahn:
I have fond (but separate) memories of both the book mobile in my little Eastern Colorado town (it supplemented our library) AND of Francie.
Posted 04/17/2013 05:04 AM