Beethoven's face is watching mine,
but the metronome defies me like a creature
breathing with a wooden will of its own.
And she of perfect pitch and hands intones,
Take your time.

These exercises drain me, but I enjoy
the feel of ivory, smooth and cold beneath
my fingers scratched from climbing trees.
She often shared how this soft ivory, the very best,
came to her--ordered straight from Africa

by her father who was, as everyone knows,
a general like his father before him
who fought in the War of Northern Aggression.
Exactly half an hour, a click of the brass lamp
declared release. I'd slip out

and run past the cemetery, then skirt the edge
of an oak-pine forest. I'd push through our door,
clutching a piece like Moonlight Sonata
in a contortion of elbows and new breasts. Then
back to my room where I didn't even notice

the desk or chair or my small terrier begging
for greetings. I'd land on my bed and study the ceiling,
see a panoramic African plain with elephants thundering,
dust clouds suffocating those incredible creatures,
all of them with tusks missing.

From A Poetry Break (Ocean Publishing, 2004).
Used with the author's permission.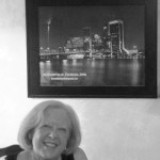 Kay Day is one of those writers who does it all--poetry, memoir, nonfiction, journalism, technical...you name it, she does it--and does it well. Currently the host of a daily syndicated blog called the "Day on the Day," which gives her the opportunity to appear regularly on The Cindy Graves Show on WBOB-AM 600, and on a number of other talk shows, she is also a columnist for the online version of The Writer Magazine. Kay is the author of an award-winning poetry collection and a memoir. A former South Carolinian now living in Jacksonville, Florida, Kay's work has appeared in numerous magazines and anthologies and she is a frequent guest at schools and book events.
dotief@comcast.net:
Very nice indeed!
Posted 10/11/2014 10:31 AM
Larry Schug:
Gives me the chills. The perfect union of what is inside and outside of a person; shows how thin our membrane of skin is.
Posted 10/11/2014 08:07 AM
KevinArnold:
A poem that keeps challenging its own borders, pushing past them; the generals in the war of northern aggression and the spoils of generalship, the ivory and its journey to the white keys.
Posted 10/11/2014 06:23 AM
poetronics:
A perfect poem in every way.
Posted 10/11/2014 12:10 AM