like wiggles of young boys.
a cherry tree sheds frills
little girls pulling off tutus
as though I could capture
another chance at spring.


This poem first appeared in Jellyfish Whispers (February 2013).
Used here with the author's permission.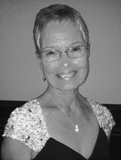 Patricia L. Goodman is a widowed mother and grandmother who lives on the banks of the Red Clay Creek in Delaware. She has had many poems published both online and in written journals and anthologies. With a degree in Biology and a career as a professional horsewoman, Patricia's passion, not surprisingly, focuses on the natural world and much of her work reflects this. Luckily, her grandchildren share that passion and are often her companions in adventure.
nancilee:
Posted 04/26/2013 12:33 PM
nancilee:
Love the comparing nature to little kids. Delightful.
Posted 04/26/2013 12:33 PM
transitions:
thanks for the joy ~ lovely poem. Judy
Posted 04/23/2013 12:06 PM
chris schulz:
parachuting purple wisteria petals share the sky with spinning catkins from the coastal oaks; dizzy delight!
Posted 04/23/2013 10:52 AM
Dorcas:
Sweet. I await spring and savor the dusk in the twighlight hours. It is but a season which will return again whether or not I am here. It is such hopeful energy to think of tutus, such as I never wore. Thank you.
Posted 04/23/2013 09:28 AM
KevinArnold:
The wonderful airiness about this poem allows the reader to fill in some of their own spring thoughts.
Posted 04/23/2013 08:24 AM
njc:
Wonderful poem--love that image in the first 5 lines! Woke up this morning to 10" of fresh April snow (again); looking forward to those pink petals--but this snow is truly beautiful.
Posted 04/23/2013 08:06 AM
mjorlock:
When? We here in Northeast Wisconsin are still waiting. Instead of wiggling boys and girls shedding tutus, we've had steady blustering from old man winter. Hopefully when Spring does come, it will stay longer than a weekend.
Posted 04/23/2013 07:45 AM
MaryLeeHahn:
Spring is here and gone so fast...
Posted 04/23/2013 04:18 AM