At the end    she sipped chamomile tea
         while Nat King Cole sang
Mostly silence filled her   as June turned into December
                                    and dusk's matte shadows expanded along the ground
Blades of bone protruded through her thin apricot sweater
             and some days were one long nap
The more she lost   the more she gave away—watercolors    copper enamels
         handmade quilts   tap shoes and original routines
Tonight feathered wings brush across the sky
wisps of purple-peach layered like the colors she painted on her canvas
There is nowhere I go she isn't 

© by Mary Jo Balistreri.
Used with the author's permission.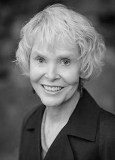 Mary Jo Balistreri is the author of two poetry books, Joy in the Morning and Gathering the Harvest, published by Bellowing Ark Press. A chapbook, Best Brothers, was published by Tigers' Eye Press. Mary Jo feels that losing oneself in the process of writing is healing, and that sharing poems, learning about the experiences of others, and the sensibilities and events that move them widens our circle of community.
transitions:
simply breath taking Judy
Posted 05/19/2013 06:25 PM
lisa honecker:
excellent in the missing of our first nuturer in life, echoing the end of a journey.
Posted 05/12/2013 04:05 PM
Gail Goepfert:
Stunningly beautiful and haunting! Blades go grass. Quite an image. Lovely as always.
Posted 05/07/2013 08:01 AM
russtowne:
I especially like the last line. It linger on my mind. Russ
Posted 05/06/2013 06:03 PM
ghctenmile@earthlink.net:
That's a beautiful last line!
Posted 05/06/2013 01:20 PM
jeanie:
oh, this is lovely! last line to carry in the heart.
Posted 05/06/2013 11:27 AM
susanfoley1@mac.com:
A beautiful poem filled with raw emotion yet very tranquil. The last line will stay with me....what a soulful journey you had with her....and what love. Susan
Posted 05/06/2013 10:16 AM
Sharmagne:
You weave a tapestry of words, paint beautiful pictures on my mind, "Tonight feathered wings brush across the sky"
Posted 05/06/2013 12:39 AM
Anjie:
The line I love is "The more she lost the more she gave away. . . " Beautiful poem, Jo!
Posted 05/05/2013 09:22 PM
Patt Clark:
How many carry their mothers with them always? I will think of this poem each time I gaze at the piece of art of your mother's on my bedroom wall. You capture and depict moments beautifully.
Posted 05/05/2013 08:38 PM
Barbara:
What a lovely picture you have painted of your mother's last days...The transition is heartfelt and filled with beauty, dignity and cherished memories. Thanks for sharing, Mary Jo.
Posted 05/05/2013 06:53 PM
Janet Leahy:
I will cherish the last line of this poem. Thanks Jo.
Posted 05/05/2013 06:39 PM
Wilda Morris:
Beautiful! Wonderful details which somehow make the poem more universal.
Posted 05/05/2013 06:22 PM
wendy morton:
How precise her grief. Those tap shoes.
Posted 05/05/2013 05:56 PM
becky evans:
A poignant, loving, lyric memorial to a talented, versatile, artist mother, who seems now, after 14 years, an angel muse. Wonderful contrasts between the apricot-peach-purple and the expanding matte shadows of dusk; between song and silence, between ground and sky, between loss and abundance. Words on canvas like a watercolor.
Posted 05/05/2013 03:25 PM
paula:
How can family not be forever? It is so good to have these memories.
Posted 05/05/2013 12:22 PM
judithteal:
Jo, your beautiful, poignant, love filled poem Is a gift to me and to Mom. Because of your powerful visuals, I feel your presence and Mom's as she lived the final months of her life. Her legacy does live on and she is present everyday to those of us who loved her. What a lovely tribute you've given Mom and what a beautiful Mother's Day card.
Posted 05/05/2013 12:06 PM
Elizabeth Mary:
Jo, the love for your Mother in your beautiful words reaches out to me and touches my heart as I am on this journey with my Mom. Such love we have for our Mothers!
Posted 05/05/2013 10:05 AM
Donna Pflueger:
Jo, your poem is stunning - in its beauty and simplicity - in its love for your mother. Thank you.
Posted 05/05/2013 09:47 AM
fcarlb:
You have captured in an elegant way the loss of a loved one
Posted 05/05/2013 09:40 AM
nancilee:
This is a beautiful poem. Lyrical, poignant, real.
Posted 05/05/2013 09:25 AM
bcrooker:
Lovely poem, Jo!
Posted 05/05/2013 08:37 AM
mimi:
Poignant, perfect and true...thank you, Sharon Auberle
Posted 05/05/2013 08:36 AM
erinsnana:
Beautiful! I lost my mother when I was 14, yet she is always with me. She loved Nat King Cole too.
Posted 05/05/2013 07:30 AM
tiddles:
Everpresent, mothers are. Your last line is so true. Thanks, Jo. Marilyn Zelke-Windau
Posted 05/05/2013 07:09 AM
gailcomorat:
I love the white space in this poem, the line: "Tonight feathered wings brush across the sky."
Posted 05/05/2013 06:20 AM
rksanders@charter.net:
This poem is very musical, Jo, and this line touches me beyond what words can say: Mostly silence filled her as June turned into December.
Posted 05/05/2013 05:07 AM
Katrina:
I am glad she had an apricot sweater and a gentle acceptance in the atmosphere.
Posted 05/05/2013 04:44 AM