The Microbe is so very small
You cannot make him out at all,
But many sanguine people hope
To see him through a microscope.
His jointed tongue that lies beneath
A hundred curious rows of teeth;
His seven tufted tails with lots
Of lovely pink and purple spots,
On each of which a pattern stands,
Composed of forty separate bands;
His eyebrows of a tender green;
All these have never yet been seen--
But Scientists, who ought to know,
Assure us that they must be so ...
Oh! let us never, never doubt
What nobody is sure about!
This poem is in the public domain.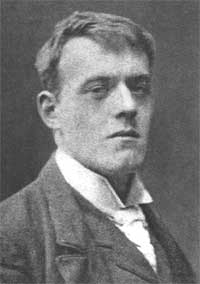 Hilaire Belloc (1870 - 1953) was born in France to a French attorney and an English feminist writer. The family moved to England while Hilaire was still a toddler. A friend of sci-fi writer H. G. Wells and playwright George Bernard Shaw, Hilaire was a devout Catholic and successful journalist who also wrote inspirational poetry, cautionary tales, nonfiction, and children's verse, authoring more than 150 books during his lifetime. Considered one of the brilliant thinkers of the 20th century, his essays and observations on history remain in great esteem even today.
sabreen:
show question
Posted 04/19/2018 11:40 PM
MaryLeeHahn:
Yup. Those last two lines. Belloc is a master of funny poems. He and Ogden Nash and J. Patrick Lewis would be three I'd love to get together with at a pub in heaven someday!
Posted 05/18/2013 03:52 PM
Dorcas:
This is a fantastic poem. It will cater to those thinkers who may also be scientists. It sums up the research of all theories. Thank you.
Posted 05/17/2013 08:24 AM
Jo:
I really liked those last two lines also. It sums it up well.
Posted 05/15/2013 03:31 PM
marenomitchell:
A writer certainly worth investigating - thanks.
Posted 05/15/2013 11:42 AM
dotief@comcast.net:
I love it!
Posted 05/15/2013 08:39 AM
JanetruthMartin:
I read through quite intrigued at his imagination, but the last two lines...brilliant. :)
Posted 05/15/2013 06:25 AM
KevinArnold:
What a wonderful poem. It gets to the heart of the mystery of modern medicine with all its non-intuitive miracles. I'm getting up early this morning to put my daughter on a plane to Georgetown Medical School where she'll graduate on Sunday. Her education seems to have been three-quarters hard facts and one quarter elaborate theories.
Posted 05/15/2013 06:23 AM