Black beans and rice
in twin bowls
on the kitchen table.
A psalm sung in praise—
two sets of hands reach
to share a simple meal—
© by Dennis Bernstein
Used with the author's permission.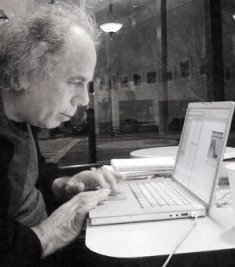 Dennis J. Bernstein is a long-time, front line reporter specializing in human rights. His articles have appeared widely in such publications as the Boston Globe, the New York Times, The Progressive, and the Nation, and he was chosen by Pulse Media as one of "20 Top Global Media Figures of 2009." Dennis's artist books, co-authored with Warren Lehrer, are in the Special Books Collections of the Museum of Modern art in New York City and other major museums around the world. He is also the author of a poetry collection, Special Ed, based on his experiences as a special education teacher in the New York City public school system; read reviews here. Dennis lives in San Francisco.
apersephone:
Enjoying the beginning of my day reading your poem alongside my empty bowl.
Posted 06/06/2013 02:09 AM
lumbinabasigosain:
simply the delicious poem
Posted 05/29/2013 03:40 AM
Dorcas:
Oh my, my, my...I didn't have beans and rice for a long time! You started me off. Maybe I will make my own chili today. Thanks.
Posted 05/28/2013 01:05 PM
KevinArnold:
Yes, beans and rice and a psalm, a poem.
Posted 05/28/2013 09:56 AM
dotief@comcast.net:
Very nice!
Posted 05/28/2013 08:22 AM
mimi:
simple meal, lovely images and poem...
Posted 05/28/2013 06:57 AM