Previous

My 10-year-old fingers reach into the galaxy of my mother's purse,
by
Donna Pflueger


Next
glide along the Milky Way of its satiny lining
past asteroids of pennies and dimes, orbit around
her bowling pin key chain until my hand
touches the surface of the white disk
with silvery scrolls and a six-petal flower. 
I pull it out, release the clasp and breathe in
a rush of Noxzema sweetness,
I unfurl her favorite hankie of nebulous blue
edged with tiny sunflowers, discover the imprint
of her kiss red as the surface of Mars.  With a snap,
I free a plastic rain bonnet from its pouch, giggle
as it expands into a bouffant of pink polka dot
planets that float over the foil wrappers
of Wrigley's spearmint gum
© by
Donna Pflueger.


Used with the author's permission.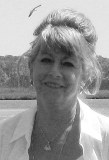 Donna Pflueger is a poet living in the high desert of Cottonwood, Arizona, where her inspiration to write occurs by simply stepping outside (although she admits to being easily distracted by her love of dogs and birds!). Having lived in the Midwest and Southwest, she will soon be contemplating where she would like to spend her retirement years. Recently, Donna's poems have appeared at Your Daily Poem, The Healing Muse, and Möbius the Poetry Magazine, and her work will be included in the Wisconsin Fellowship of Poets 2014 Calendar. 
laurasalas:
Oh, I love this! Love the extended metaphor and all the sensory details.
Posted 06/19/2013 07:48 AM
Donna Pflueger:
In answer to lumbinabasigosain's question regarding does the title mean stealing money from the purse: no, the poem's title foretells of the excitement and fascination of a child exploring her mother's purse to experience the things that are unique to her mother.
Posted 06/08/2013 08:25 AM
apersephone:
I can see it, smell it taste it, love it!
Posted 06/06/2013 02:07 AM
lumbinabasigosain:
does the title means stealing money from purse?
Posted 06/04/2013 05:12 AM
Anjie:
My favorite is the gum as the ending of stars. My grandma always had gum with a white wrapper---I think it was Wrigly's, too.
Posted 05/31/2013 06:12 AM
russtowne:
I enjoyed the imagery and adventure. Russ
Posted 05/30/2013 10:15 PM
Donna Pflueger:
To all - thank you for your kind words - so glad to hear it brought back images and memories.
Posted 05/30/2013 09:22 PM
abbie:
I remember my younger brother taking cigarettes out of my mother's purse and inserting firecrackers in them before putting them back so when she lit them, they emitted a loud pop. He called this his war against smoking.
Posted 05/30/2013 04:38 PM
marenomitchell:
Took me right back to the intriguing contents of my mother's large pocket book!
Posted 05/30/2013 10:53 AM
Jo:
Beautiful poem Donna. I have so many favorite images, I can't yet settle on one. Thank you.
Posted 05/30/2013 09:26 AM
erinsnana:
Love it! Such a sensory description!
Posted 05/30/2013 06:53 AM
TheSilverOne:
What a beautiful, insightful poem! I, too, am contemplating where to spend those retirement years. Hopefully, we'll write more poetry.
Posted 05/30/2013 05:26 AM
Contents of this web site and all original text and images therein are copyright © by Your Daily Poem. All rights reserved.
As an Amazon Associate I earn from qualifying purchases. Purchasing books through any poet's Amazon links helps to support Your Daily Poem.
The material on this site may not be copied, reproduced, downloaded, distributed, transmitted, stored, altered, adapted,
or otherwise used in any way without the express written permission of the owner.