Lie still and rest, in that serene repose
 That on this holy morning comes to those
 Who have been burdened with the cares which make
 The sad heart weary and the tired head ache.
     Lie still and rest - 
     God's day of all is best.

This poem is in the public domain.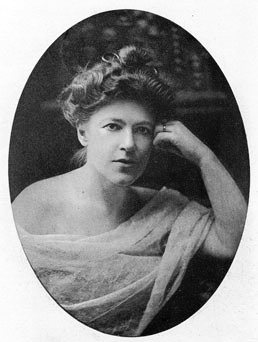 Ella Wheeler Wilcox (1850-1919) was a popular and prolific poet. Published and lauded before she even graduated from high school, Ella preferred to write happy, upbeat poetry and was much beloved for it. More than a dozen of her poems are included in the book, Best Loved Poems of the American People (Doubleday, 2008). The familiar saying, "Laugh and the world laughs with you, weep, and you weep alone. . ." comes from her best-known poem, "Solitude." A morally strong and spiritual person, Ella believed that her purpose on earth was to practice kindness and service. Read more about her here.
russtowne:
The write-up about her sounds to me like a great way to live.
Posted 06/02/2013 06:51 PM
twinkscat:
Ella's poem "Love is Enough" was read at our wedding. Love her poetry.
Posted 06/02/2013 10:38 AM
KevinArnold:
Ah yes, happy, upbeat poetry. Not only did she write it, the poems, even this one, told us why she wrote it. Thanks for sharing.
Posted 06/02/2013 09:30 AM
Donna Pflueger:
Thank you, Jayne, for this sweet and serene poem. It is one that will stay with me today.
Posted 06/02/2013 09:28 AM