My brother-in-law is in the Navy.
He uses words like "vehicle."
Shall we take one or two "vehicles"
to the beach? he wants to know.
A sunny summer Sunday,
and the only two-vehicle convoy
with headlights on for safety
is our mission to the beach.
And the weather is "cooperative."

He leads and I follow because
he's a leader in the United States Navy
where all of the colorful noun phrases
are reserved for the names of "operations,"
and the weather is always either
cooperative or uncooperative,
like his kids in the backseat stiffly
staring out the window,
their thoughts precipitating
a thousand miles away.

He leads and I follow because
behind his back I'm spinning
these hit-and-run near misses,
these pot shots at the Navy's
leaders' kids and vocabularies,
my kids in the backseat killing
time with singing and laughing
and drawing emaciated stick figures
with lumpy limp smiles
and exploding spiky yellow suns.

Denuding their crayons, they're threatening now
to eat them one by one in the order
of the rainbow.
© 2010 by Paul Hostovsky.
Used with the author's permission.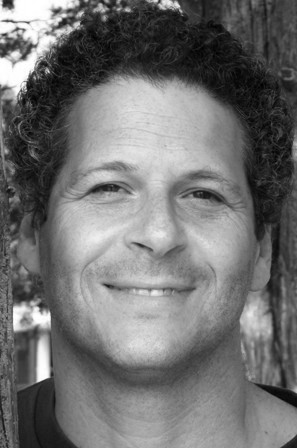 When he's not writing award-winning poems, Bostonian Paul Hostovsky makes his living as a sign language interpreter at the Massachusetts Commission for the Deaf and Hard of Hearing. He is the author of five chapbooks and four full-length poetry collections, including his latest, Hurt Into Beauty. To read more of Paul's work, visit www.paulhostovsky.com.
erinsnana:
hilarious! My father was in the. Navy, and he used those words too!
Posted 06/12/2013 09:52 AM
Buckner14:
I feel that I'm in that car. The ending clicks nicely.
Posted 06/12/2013 09:42 AM
gretchenfriel:
Ha, ha, I love the image of that last line; kids reciting ROYGBIV with their mouths full of crayons!
Posted 06/12/2013 09:20 AM
dotief@comcast.net:
Very nice!
Posted 06/12/2013 07:43 AM
Larry Schug:
The last poem I read last night was Paul's poem in the Cancer Project anthology and this was the first thing that popped up on my computer this morning. What can this mean but good luck. (and two good poems)
Posted 06/12/2013 07:25 AM
Katrina:
I always love your poetry, Paul!
Posted 06/12/2013 04:36 AM