My son is in up to his thighs,
trying to muster the courage
to swim to a
raft in a mountain lake.  

He doesn't see me
half-submerged in a hot tub.
I fight the urge to jump up and 
race alongside him while I still can.
I'd yell Go Scotty-boy you can do it!
Instead, as I crowd the warm-water 
jets with my joints, I pray.
May he get where he wants to go.
Not long after, as the water soothes me, 
he raises his arms and dives in,
strong sure strokes toward the
float.
© by Kevin Arnold.
Used with the author's permission.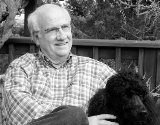 Kevin Arnold lives in San Jose, California. His poems and short stories have been published in numerous literary magazines and a story excerpted from his novel, Good with People, won first place at the 2009 San Francisco Book Festival. Kevin received a BA from the University of Wisconsin-Madison and a Master of Fine Arts in Fiction from San Jose State University. The long-term president of Poetry Center San Jose, parent organization to the California Poets Festival, he is currently marketing Good with People and revising another novel, White Man's Blues.

Donna Pflueger:
With this poem, you brought back memories of my father and I know in my heart, if he were alive, he would still be wishing the same wonderful prayer for my brother and I. Thank you, Kevin.
Posted 06/15/2013 11:50 AM
Bronwen:
The prayer any parent has for their child. Lovely!
Posted 06/15/2013 10:51 AM
pwax:
A good poem for Father's Day. Non-sentimental, yet the emotion is clearly there.
Posted 06/15/2013 09:33 AM
Janet Leahy:
"May he get where he wants to go," a lovely prayer, from a father to son.
Posted 06/15/2013 07:16 AM