At camp we place our cots
Crickets chirp in the cool air,
weíre comfy under covers.
After gabbing and giggling,
with sparkling stars brighter
Aunt Mattyís rhinestones.
We look for the North Star
In the city, Iíve never seen
Gail is crying in her tent,
I wish she would join us.†
donít fence me in.
under starry skies above
.
I want to gaze at the moon
but I donít want to sleep.
stare at the starry sky.


†
©†by Barbara Eknoian.
††††††††††††††††††††††† Used with the authorís permission.
†
†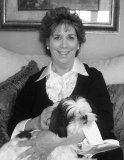 Barbara Eknoian lives in La Mirada, California, with her extended family--where she says "there is always room in the inn." Originally from New Jersey, she was forever homesick until she joined Donna Hilbert's poetry workshop in Long Beach. Barbara was the first recipient of the Jane Buel Bradley Chapbook Award for her collection, Jerkumstances (Pearl Editions).
jakrogers:
You captured the night, Barbara! And I'm so glad Roy was there, too.
Posted 12/24/2013 03:52 PM
Margaret Towner:
Brings back many memories of sleeping under the stars while at camp or camping.
Posted 06/28/2013 12:21 PM
peninsulapoet:
Beautiful poem for a summer night. Or any time when we need a bit of starlight.
Posted 06/28/2013 10:25 AM
TheSilverOne:
AS someone who's spent hours in a sleeping bag, gazing at the night sky in awe, I totally enjoyed this poem.
Posted 06/28/2013 09:05 AM
MaryLeeHahn:
This sounds like it could be part of a novel in verse!
Posted 06/28/2013 08:52 AM
Janet Leahy:
I want to be there under that starry sky, and those melodies now hum in my mind, thanks Barbara
Posted 06/28/2013 08:16 AM