I don't wanta sing nothin' but the blues.
— B.B. King
I believe in Clapton and Robert Cray,
in Bessie and Billie and Stevie Ray—

In Milton. In Louis. Both Sonny Boys Too.
In Doc and in Dub and in Barbecue.

Acoustic harmonica, bottle neck slide.
Amped up electric—full-open, wide.

In Muddy and Buddy and Magic Sam,
In Tommy Castro, Slam Stewart's C-Jam.

In John Lee Hooker, and Booker T,
in Pine Top Perkins and Brownie McGhee.

Shuffle and back beat, a note that bends.
The twelve bar limit where everything ends.

In Koko, Shamekia, Bull City Red,
Bill Broonzy, Ma Rainey, The Grateful Dead.

In Wynonie Harris, Big Mama, and Taj,
In Blind Boy and T-Bone and Mamie and Jazz,

St. Louis and Memphis and Bobby 'Blue' Bland.
A saxophone solo, a full brass band.

In Janiva Magnus and Lillian Glinn.
In Yancey and Estes and Chris Thomas King.

In Meade Lux, Maceo. In Jelly Roll,
In Otis. In Sunnyland, Smiley and Mose.

I always hang on for the closing act.
I believe in the blues.

Now that's a fact.
© by Phebe Davidson.
Used with the author's permission.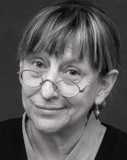 Phebe Davidson is a recovering academic, the author of twenty-some published collections of poems, a contributing editor at Tar River Poetry and a staff writer for The Asheville Poetry Review. Her newest book is Waking to Light (Main Street Rag Publishing Co., 2012).
lisa honecker:
Fabulous!
Posted 07/01/2013 10:28 AM
penhart:
Congratulations, Phoebe! Really enjoyed this tribute to the blues :)!~
Posted 06/30/2013 04:01 PM
Larry Schug:
As I listened to Allison Scott playing with the Okemah Prophets on Saturday night I thought about all the bands playing on Saturday night in America--its all just rock 'n roll, one big Saturday night song made up of thousands, being played at once. Of course, the Grateful Dead.
Posted 06/30/2013 12:58 PM
John:
Now that's the twelve-bar blues with a kicker.
Posted 06/30/2013 12:09 PM
LindaCrosfield:
Gonna share this one with some musical friends! Yesterday—and tonight with a different band—my son got to play stand-up bass at the Vancouver Jazz Festival. Yesterday's gig was with Bessie and the Back Eddies. Bessie, the daughter of a good friend of mine, was named for Bessie Smith. And the world goes 'round. Good poem. Thanks, and Amen!
Posted 06/30/2013 11:47 AM
Nabby Dog:
The energy of the poem's language reflects the vitality of the topic itself. Just great!
Posted 06/30/2013 09:04 AM
MaryLeeHahn:
(Okay, I'll take the bait!) AMEN, sister!
Posted 06/30/2013 07:49 AM
KevinArnold:
I always hang on for the closing act. I believe in the blues. Now that's a fact. And that's poetry; that's a fact too.
Posted 06/30/2013 07:07 AM
r1manchester:
ah ms phebe....all those sweet sounds, those deep tones, big mama's dog, taj's swing, all wrapped in one groovy poem.
Posted 06/30/2013 04:39 AM