We're writing our names with sizzles of light
to celebrate the fourth. I use the loops
of cursive, make a big "B" like the sloping
hills on the west side of the lake. The rest,
little "a's," "r's," one small "b," spit
and fizz as they scratch the night. On the side
of the shack where we bought them, a handmade
sign: Trailer Full of Sparkles Ahead,
and I imagine crazy chrysanthemums, wheels
of fire, glitter bouncing off metal walls.
Here, we keep tracing in tiny pyrotechnics
the letters we were given at birth, branding
them on the air. And though my mother's name
has been erased now from the Book of Life,
I write her name, too: a big swooping "I",
a little hissing "s," an "a" that sighs
like her last breath, and then I
ring "belle," "belle," "belle"
in the sulphuric smoky dark.



From
Gold
(Cascade Books, 2013).
Used here with the author's permission.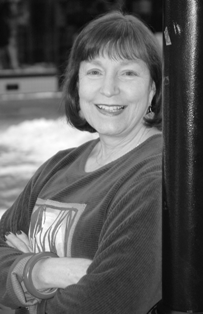 Barbara Crooker's poems have appeared in numerous magazines, journals, and anthologies and have been featured on the BBC, the ABC (Australian Broadcasting Company), The Writer's Almanac

, and in the Poetry at

Noon

series at the Library of Congress. Her awards include the Thomas Merton Poetry of the Sacred Award, three Pennsylvania Council on the Arts Creative Writing Fellowships, fifteen residencies at the Virginia Center for the Creative Arts, a residency at the Moulin à Nef in Auvillar, France, and a residency at The Tyrone Guthrie Centre in Annaghmakerrig, Ireland.
Barbara lives in Fogelsville, Pennsylvania
; read more about her at
www.barbaracrooker.com
.
gretchenfriel:
Sweet reminder - I hear my late father's voice reminding us children to "pick up all the wires" from the wet grass. Thank you :)
Posted 07/04/2013 02:55 PM
Jo:
A beautiful tribute Barbara. Thank you.
Posted 07/04/2013 09:12 AM
KevinArnold:
The first first line and a half paint such a poetic gesture that the poem is like a blessed child. How could it fail?
Posted 07/04/2013 08:40 AM
mimi:
lovely, poignant, happy all at once poem...thank you!
Posted 07/04/2013 08:13 AM
Wilda Morris:
So happy to start the day with a poem by Barbara Crooker! This one is beautiful.
Posted 07/04/2013 07:56 AM
TheSilverOne:
Beautiful, touching tribute.
Posted 07/04/2013 07:47 AM
ed werstein:
What a great poem. Thanks, Barbara
Posted 07/04/2013 07:16 AM
penhart:
What a wonderful poem, Barbara! Brings back memories of a bunch of us kids out on the night of the 4th, running around the yard with sparklers. Beautiful tribute to your mother at the end, too!
Posted 07/04/2013 06:45 AM
Katrina:
Thank you Barbara! I normally find fireworks unnecessary but am running a monthly Creative Writing Workshop, called 'Fire Works!' tonight and appreciate your words, almost from ignition's perspective. Let me echo Jayne: Happy Birthday America!
Posted 07/04/2013 04:15 AM