from the derecho storms, bee-lined
straight up Grace Chapel Drive
to side-arm a Bradford pear,
then bellowed down the hill
across Wolfe Road, down again,
then up to snub a house, topple
a tall oak; jumped Pinecrest
to head-butt ten loblolly pines,
laid them flat out together,
roots like bloodied teeth
in gouged-up gums of red clay,
brute force leaving us powerless.
© by Patricia Killian Deaton.
Used with the author's permission.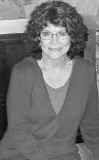 Patricia Killian Deaton is a native of the foothills of North Carolina whose poetry, fiction, and nonfiction has been published in a variety of magazines and anthologies. She does memory training by composing poetry while taking walks, then trying to remember it at home—although she admits to occasional cheating with a pad and pen when a composition seems too good to risk losing. Patricia, a new and very young but very thrilled great-grandmother, lives with a huge orange cat named Sweet Boy near a lake.
Chuck1947:
The football player is on the wind now... never forget
Posted 01/27/2014 11:35 AM
lisa honecker:
Wow, great poem, can get the picture in my mind
Posted 07/11/2013 04:07 PM
Helen Losse:
I like poems that are one sentence long, and I like your energetic verbs. I loved hearing you read this poem at Poetry Hickory.
Posted 07/09/2013 09:18 PM
ghctenmile@earthlink.net:
I really like the energy that this poem packs in a short space--it just keeps moving like the storm it's talking about. I counted the number of words and if I'm correct nearly one half of them are single syllable words--hammer blows. Thanks for the good work. GHC
Posted 07/09/2013 01:45 PM
Larry Schug:
You did a good job of avoiding clichés while writing this, Patricia--difficult to do with this "material". I also liked the image of the bloodied teeth.
Posted 07/09/2013 10:09 AM
Rooster:
Great website and great poem, keep up the good work Sis!
Posted 07/09/2013 08:38 AM
TheSilverOne:
Wow! wonderful words, wonderful poem about nature's power.
Posted 07/09/2013 08:14 AM
mimi:
very powerful, unique images...
Posted 07/09/2013 07:09 AM
maryricketson:
I can see it, this poem took me right there.
Posted 07/09/2013 06:58 AM
Katrina:
I love all the specific unusual references in this short poem.
Posted 07/09/2013 05:44 AM
LindaCrosfield:
I've been watching a lot of weather-related news of late. Calgary got flooded like crazy. Today, Toronto got almost as much rain as during Hurricane Hazel, many years ago. This is such a good poem. "Bellowed down the hill", "snub a house", "roots like bloodied teeth"...I could go on. Powerless, indeed. you caught it.
Posted 07/09/2013 05:19 AM
Scott Owens:
I lost a tree (and a tree house) in that same wind. Beautifully evocative imagery here.
Posted 07/09/2013 05:08 AM