The cocks have now the morn foretold,
The sun again begins to peep,
The shepherd, whistling to his fold,
Unpens and frees the captive sheep.
O'er pathless plains at early hours
The sleepy rustic sloomy goes;
The dews, brushed off from grass and flowers,
Bemoistening sop his hardened shoes
While every leaf that forms a shade,
And every floweret's silken top,
And every shivering bent and blade,
Stoops, bowing with a diamond drop.
But soon shall fly those diamond drops,
The red round sun advances higher,
And, stretching o'er the mountain tops,
Is gilding sweet the village-spire.
'Tis sweet to meet the morning breeze,
Or list the gurgling of the brook;
Or, stretched beneath the shade of trees,
Peruse and pause on Nature's book,
When Nature every sweet prepares
To entertain our wished delay,—
The images which morning wears,
The wakening charms of early day!
Now let me tread the meadow paths
While glittering dew the ground illumes,
As, sprinkled o'er the withering swaths,
Their moisture shrinks in sweet perfumes;
And hear the beetle sound his horn;
And hear the skylark whistling nigh,
Sprung from his bed of tufted corn,
A haling minstrel from the sky.

This poem is in the public domain.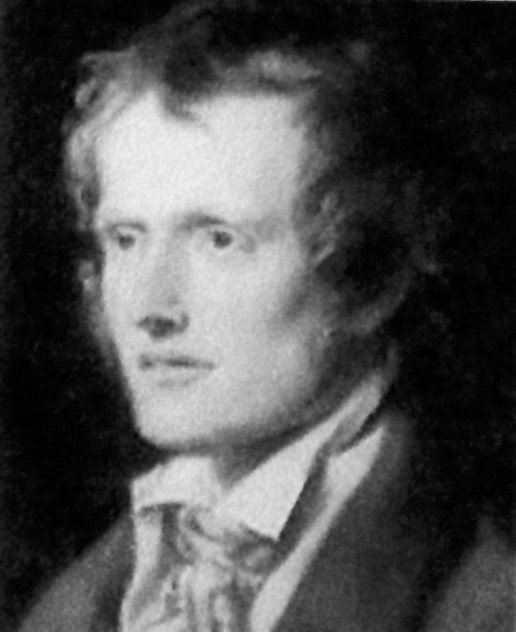 John Clare (1793 - 1864) was born to a poor, working class family in England. His life as an uneducated peasant farmer was one of constant struggle and hardships, yet his poetry is wonderfully inspiring. John was a "poetic environmentalist," in awe of the natural world, and nature is the theme of much of his work. His poetic talent earned him access to London's literary circles, though his inferior social standing kept him from ever truly joining its ranks. Tragically, John spent the last twenty years of his life in a mental asylum, though he continued to write and produce poetry that some critics laud as some of the 19th century's best work. Learn more about John Clare here.
Katrina:
Thank you, Jayne, together with the Oxford English Dictionary, you have increased this British person's vocabulary: sloomy, adj.: a. Of grain: Not properly filled. b. Of corn, etc.: Laid or lodged through being soft and heavy; beginning to rot. 2. Sluggish, dull, spiritless. Also as adv.
Posted 07/17/2013 05:47 AM