The month of carnival of all the year,
When Nature lets the wild earth go its way,
And spend whole seasons on a single day.
The spring-time holds her white and purple dear;
October, lavish, flaunts them far and near;
The summer charily her reds doth lay
Like jewels on her costliest array;
October, scornful, burns them on a bier.
The winter hoards his pearls of frost in sign
Of kingdom: whiter pearls than winter knew,
Or empress wore, in Egypt's ancient line,
October, feasting 'neath her dome of blue,
Drinks at a single draught, slow filtered through
Sunshiny air, as in a tingling wine!
This poem is in the public domain.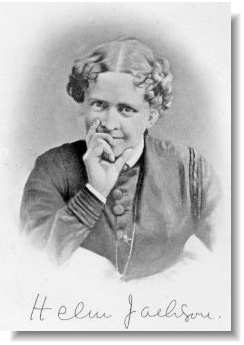 Helen Maria Hunt Jackson (1830 – 1885) was born in Amherst, Massachusetts, and was a friend and classmate of Emily Dickinson. Gifted and prolific in all genres, Helen was best known as a passionate defender of Native American rights; one account refers to her as "the most brilliant, impetuous and thoroughly individual woman in her time." She hoped her novel, Ramona, would impact society as much as Uncle Tom's Cabin, a novel written by her friend Harriet Beecher Stowe. Ultimately, it did--though Helen didn't live long enough to realize it; a plau based on Ramona has been performed in California every year since 1923. For all her success as a writer, Helen suffered much personal tragedy; she was plagued with poor health for most of her life, lost both parents before she was eighteen, lost her first husband to a war incident, and watched both of her sons die from illness.
There are no comments for this poem yet.