but they resign to their fate.
Mother is in her blowsy prime
the world, fluting outward
but look what I have made!


© by

†

Tamara Madison.




Used with the authorís permission

.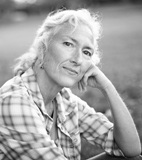 Tamara Madison teaches English and French at a public high school in Los Angeles. Raised on a citrus farm in the California desert, Tamaraís life has taken her many places, including Europe and the former Soviet Union, where she spent 15 months in the 1970s). A swimmer and dog lover, Tamara says, "All I ever wanted to do with my life was write, and I mostly write poetry because it suits my lifestyle; I like the way one can say so much in the economical space of a poem."
†
Akayjohnson:
I love it
Posted 07/29/2013 03:03 PM
ghctenmile@earthlink.net:
Good job. --Look what YOU have made! GHC
Posted 07/28/2013 04:33 PM
gonzamom:
Thanks for posting your poetry today. I enjoyed reading the poem, the poem fit my mood today. a good comparison. Everything is related.
Posted 07/28/2013 01:48 PM
Havenwood:
This is an absolutely beautiful write. I also enjoyed how you formatted the words, it reminded me of a straight (and perfect) rose.
Posted 07/28/2013 11:40 AM
Janet Leahy:
I like the design of this poem as it runs straight down the page with wonderful language.
Posted 07/28/2013 07:16 AM
MaryLeeHahn:
Gotta love that rose mama!
Posted 07/28/2013 04:44 AM