Let go
                Let the weight of your wishes slip softly away with the silt
                Let your schedules lap the bank by dried bread crusts and lost single flip-flops
                Let mahogany rocks pile up on the bottom
Float
                drift
                        in rushing water, grey-green timestream
Grow
                fluted crystal fins, small slivers of self
        silver glimmering skin
                        gleaming to greet lightbeams where water meets air
Swim
                immerse without thinking, expecting—
                        shift in swift waters
                                deep unseen weaving
                                believing in mermaids
© by Laura Purdie Salas.
Used with the author's permission.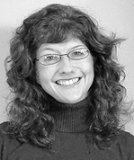 Laura Purdie Salas is the author of more than 100 books for kids and teens, including Bookspeak! Poems About Books and Stampede! Poems to Celebrate the Wild Side of School (both from Clarion). She loves to introduce kids to poetry and help them find poems they can relate to, no matter what their age, mood, or personality. When Laura's not reading or writing, she likes to play board/word games, do yoga, work out, watch reality TV, play Rock Band, and walk her beagle, Captain Jack Sparrow. Learn more about her at http://laurasalas.com.
marenomitchell:
Thanks for this meditation vacation!
Posted 07/31/2013 01:17 PM
Larry Schug:
I agree, this fine poem MUST be read aloud. I like its shape on the page, too, not to mention its message.
Posted 07/31/2013 12:26 PM
VNesdoly:
"...let the weight of your wishes slip softly away with the silt..." You've captured the carefree weightlessness of water so perfectly, Laura! Beautiful summer poem.
Posted 07/31/2013 09:40 AM
Havenwood:
A peaceful and flowing poem. Excellent read and write!
Posted 07/31/2013 08:28 AM
pwax:
This poem begs to be read aloud--wonderful use of language--all that alliteration and internal ryhme. Well done!
Posted 07/31/2013 07:47 AM
MaryLeeHahn:
This poem is the perfect reminder to keep me from hyperventilating about the beginning of the school year!
Posted 07/31/2013 07:07 AM