Nana, will you ride the Anaconda
My seven-year-old granddaughter
imploring. My feet are abraded—
my replaced hip protests—
What will I teach her if I say
Of course,
I reply and off we go—
lumbering up the rough concrete ramp
in line, maneuver into the yellow,
and after blind swoops and freezing splashes,
through the open jaws of the giant snake,
hands aloft and squealing.
© by Patricia L. Goodman.
Used with the author's permission.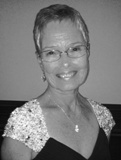 Patricia L. Goodman lives on the banks of the Red Clay Creek in Delaware. She has had many poems published both online and in written journals and anthologies. With a degree in Biology and a career as a professional horsewoman, Patricia's passion, not surprisingly, focuses on the natural world and much of her work reflects this. Luckily, her grandchildren share that passion and are often her companions in adventure.
Jo:
You are a fantastic Nana. I really like this poem. I agree with Kevin about the last line.
Posted 08/02/2013 05:41 PM
nancilee:
Love this poem. It makes me sorry I didn't go to Sun Splash with my granddaughters (twice!) and thus missed that valuable time with them.
Posted 08/02/2013 09:56 AM
paradea:
I would lay down my life for my grandchildren and you do...in the mouth of a giant anaconda!! I love this. Thanks for a wonderful poetic portrayal of us grandparents.
Posted 08/02/2013 08:45 AM
KevinArnold:
Wonderful last line, perfect.
Posted 08/02/2013 08:28 AM
erinsnana:
I love this poem, and, yes, you are a great Nana!
Posted 08/02/2013 08:02 AM
Don Rossano:
After the tears of recognition have cleared what is there to say but 'more anacondas please!'
Posted 08/02/2013 07:40 AM
Havenwood:
The things we do for those we love! A fun read and write!
Posted 08/02/2013 07:25 AM
gigi:
You are a great Nana. This nana holds the line at Scrabble and Chess. Now I know what I've missed.
Posted 08/02/2013 04:39 AM