O, humidity
heavy air dripping with sweat
boys cannonball off docks.
© by Gary Busha.
Used with the author's permission.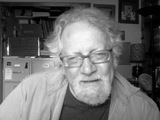 Gary Busha is a Wisconsin native who likes that state's changing seasons. His poetry—lean and plain-spoken, with themes of nature and lament—is strongly influenced by his good fortune in having grown up on Lake Winnebago. A poetry chapbook publisher for many years, Gary has three chapbooks of his own, which he claims are the better for having studied such a wide range of poetic styles over the years.
Most recently, he's created a mini-chapbook series of haiku and small poems, called On the Dock, Rhyme Tyme, and Canoe Haiku.
Jo:
Ralph said it so well. It's really a good one Gary.
Posted 08/08/2013 11:39 PM
KevinArnold:
How can you not like a guy who's written a book called Canoe Haiku? Good poem.
Posted 08/07/2013 02:14 PM
poetry94523@yahoo.com:
Short and to the point. Good one.
Posted 08/07/2013 02:03 PM
Ross Kightly:
Dangerous habit getting deep in the moment: haiku addiction! [Sorry, Gary, but the craving just kicks in sometimes... nice one this, with those cannonball boys - just what they do!]
Posted 08/07/2013 10:12 AM
ed werstein:
great work. Gary
Posted 08/07/2013 08:45 AM
mimi:
Busha's boys instead of Basho's frog.. nice poem, Gary!
Posted 08/07/2013 08:38 AM
erinsnana:
Nice!
Posted 08/07/2013 08:23 AM
paradea:
Nice poem.
Posted 08/07/2013 07:05 AM
Ralph Murre:
How few words (and how much living) it takes to make a great poem.
Posted 08/07/2013 06:59 AM
Contents of this web site and all original text and images therein are copyright © by Your Daily Poem. All rights reserved.
As an Amazon Associate I earn from qualifying purchases. Purchasing books through any poet's Amazon links helps to support Your Daily Poem.
The material on this site may not be copied, reproduced, downloaded, distributed, transmitted, stored, altered, adapted,
or otherwise used in any way without the express written permission of the owner.