strips the last green leaf
Nature, that green magician,
arranges a slight of hand.
The fat worm in a striped suit
slides into its chrysalis
© by Tere Sievers.
Used with the author's permission.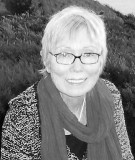 Tere Sievers, originally a Jersey girl, lives in Long Beach, California, and works as a psychotherapist. Eating tomatoes from her garden is one of her great delights, as well as visiting her vagabond sister in various tropical climes. For the enjoyment of the children in her life, she has published a book of children's poems, Blueberry Pancakes and Monkey Pajamas. Three of Tere's poems are included in the Green Anthology, from Silver Birch Press.
Wilda Morris:
Beautiful poem.
Posted 08/10/2013 05:49 PM
transitions:
Wonderful imagery in this great poem. I,too, seldom see them, an umimaginable loss... Judy
Posted 08/10/2013 03:19 PM
TheSilverOne:
Loved this poem! Ready to dance!
Posted 08/10/2013 12:42 PM
Janet Leahy:
"Nature, that green magician," wonderful language paints this picture.
Posted 08/10/2013 05:02 AM