Truffles for a weary soul
and the bone-deep fatigue of
bills in the mail, dents in the car,
weeds in the yard, ticks on the dog,
†
†
†
†
©†by William Vollrath.

Used with the authorís permission.
†
†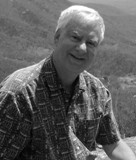 William Vollrath lives in beautiful and historic Charlottesville, Virginia, where he has finally found time to focus on writing after varied experiences as a grave digger, ad salesman, English instructor, real estate appraiser, bartender, political activist, broker, father, and husband. He hopes sharing his experiences, perceptions, frustrations and joys will be good therapy for himself and may provide some lasting illumination for others. Williamís award-winning poetry has been published in a variety of journals, anthologies, and e-zines.
†
†
transitions:
Too true! Thanks for the smiles ~ Judy
Posted 08/26/2013 02:49 PM
Wilda Morris:
Hey, William! Good to find you here today! Bills in the mail, weeds in the yard, ah, yes . . . we all need something soothing! Thanks for this poem!
Posted 08/26/2013 02:15 PM
KevinArnold:
Who could pass up a poem with such a title?
Posted 08/26/2013 09:08 AM
erinsnana:
Hilarious!
Posted 08/26/2013 05:16 AM
Ross Kightly:
The comfort of food or the food of comfort? What's the difference in a good, heartening poem? Thanks for this one William - I hope the dog's ticks could be eradicated...
Posted 08/26/2013 05:02 AM