Some will say
they felt the touch
of love the first time
as he sang from a hi-fi
and his power for turning
secular into sacred and
sacred into sensual
makes them remember
him when they remember
moonlight and lips
from decades ago.
 
His voice is the envy
of angels, high as heaven's
ceiling, warm as skin
against skin and, at 78,
he still walks on stage
shyly, like a boy
on his first date and,
when he begins to sing,
his eyes close
as if he's dreaming the song.
And the audience believes
 
in romance again
as his voice lifts above
the violins and then
nothing else matters
just this man and his vibrato
prayers blessing them
away from the world outside.
And their hearts beat again
with something young and wild
as the memory of eyes in candlelight,
his voice igniting the sweet heat
of a whispered, "Yes."
This poem first appeared in Voices from Here.
Used with the author's permission.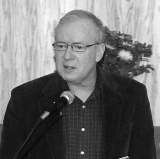 Edwin Romond  is a poet, playwright, composer, and educator. Now retired, he taught English for more than 30 years in Wisconsin and New Jersey. Edwin's award-winning work has appeared in numerous literary journals, college text books and anthologies, and has been featured on National Public Radio. He maintains an active schedule of readings and presentations; check www.edwinromond.com to see if he's appearing anywhere in your area. A native of Woodbridge, New Jersey, Edwin now lives in Wind Gap, Pennsylvania, with his wife and son.



barbara eknoian:
I just titled my new young adult novel "Chances Are" because it's important in the story, and everyone who grew up in the 50's gets that dreamy look when they think of Johnny's hits. Great poem fellow New Jerseyite.
Posted 09/30/2013 10:27 PM
transitions:
"Misty" at 19....; thanks, Johnny ~ Judy
Posted 09/30/2013 01:24 PM
KevinArnold:
Who could not love love?
Posted 09/30/2013 08:51 AM
paradea:
"A Certain Smile" comes to my face when I read this fabulous poem and "Chances Are" these delicious goosebumps of youth will stay with me throughout the day. Thank you.
Posted 09/30/2013 08:17 AM
mimi:
sigh...I'm there once more...seventeen again...
Posted 09/30/2013 07:58 AM
Charly:
I could hear him!
Posted 09/30/2013 06:51 AM
phebe.davidson@gmail.com:
Yes. Yes. Yes. And yes!
Posted 09/30/2013 06:24 AM
Ross Kightly:
For me, nothing is more potent an emotional trigger than music - not even something like Proust's Madeleine... lovely, open-hearted poem in tribute to one of the Greats.
Posted 09/30/2013 05:55 AM
gigi:
To quote Johnny Mathis, "Wonderful, Wonderful." When I first heard him oh so many years ago, his voice reminded me of my first summer boyfriend, yes, oh so many years ago.
Posted 09/30/2013 05:10 AM