Thomas said
you canít go home again
but I did for my sister
and the christening of her first.
Everyone, on folding chairs, against
the whitewashed basement walls, was there
for ham and beef and beer, the better
bourbons, music, argument and talk.
Maura came; she hadnít married.
Paddy, fist around a beer, declared
I owed my family the sight
of me more often.
Hannah, thickset now,
gray and apronless,
rose beside the furnace,
wolverined me to the coal bin door
and asked me in the face,
with sibilance and spittle,
who or what it was
that kept me anywhere,
everywhere, but there.
First published in Quartet Magazine (Vol. IV No. 25, Winter 1969)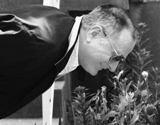 Donal Mahoney lives in St. Louis, Missouri. A native of Chicago, he spent the early '70s actively submitting poems to print journals and enjoyed some success. He then took a 35-year hiatus from poetry to work as an editor of prose at such lofty establishments as the†Chicago Sun-Times, Loyola University Press, and Washington University in St. Louis. Upon retirement, Donal took to his recliner, and was perfectly happy reading and listening to Gregorian chant all day. After three years, however, his wife bought Donal a computer and showed him where the boxes of still-unpublished poems had been stored in the basement for many years. Thus Donal began actively submitting again in June 2008. Some of his work can be found at†http://booksonblog12.blogspot.com/.
†
†
mary lou taylor:
First time reading you, Donal. Got my Irish up! And thoughts on my Irish family, such great material for poetry.. Thank you for the great poem.
Posted 10/27/2014 02:43 PM
Jo:
Really enjoyed your poem. One of my favorite poets too.
Posted 10/27/2014 12:33 PM
wendy morton:
Gray and apronless. Brilliant.
Posted 10/27/2014 10:08 AM
Cindy:
I felt like I was right there beside the furnace.
Posted 10/27/2014 09:28 AM
Glen Sorestad:
Love your wwork, Donal. This one is a gem! I've been that person, pined against a wall or door with "sibilance and spittle".
Posted 10/27/2014 09:09 AM
ed werstein:
A great poem from one of my favorite poets.
Posted 10/27/2014 08:40 AM
dmahoney:
The word 'wolverined" is so perfect! With precise language, an entire crowd is aptly described.
Posted 10/27/2014 08:09 AM
Larry Schug:
The only thing better is an Irish wake. Just shows how we're all surrounded by poetry if we just pay attention.
Posted 10/27/2014 07:57 AM
paradea:
The Irish know how...!!!
Posted 10/27/2014 07:05 AM
rhonasheridan:
I think this poem shows that poems without great words making verse sometimes difficult to understand are much loved and delight us simple mortals so much.
Posted 10/27/2014 05:50 AM
phebe.davidson@gmail.com:
Excellent work by an excellent poet.
Posted 10/27/2014 05:37 AM
gigi:
Family: how simple, how complex.
Posted 10/27/2014 04:20 AM
wendy morton:
this is a brilliant poem, the startling imagery, the humour, the grace of it.
Posted 09/03/2010 10:33 AM