The sunrise, lambent on a gilded sea
sweeps across my bedroom wall.
Burnished shadows dance with the light
as dawn lifts into day.                                                          
 
I watch the shimmering daybreak,
held sacred in its glow.
It crimps rosy ripples
beneath a blemished sky.
 
Silhouette pines lean into the lustre,
shoulder to shoulder they stand,
in the glimmer of a new morning
as a village twinkles to life.


© by Máire Morrissey-Cummins.
Used with the author's permission.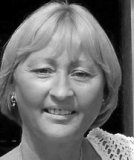 Máire Morrissey-Cummins lives in Greystones, County Wicklow, Ireland.  After a lifetime of working, she retired early, embraced poetry and painting, and is enjoying this creative period of her life. Máire's work has been published, worldwide, in many online and print publications. A member of Haiku Ireland, she was named one of the Top 100 European Haiku Writers for 2012.
Eiken:
Thank you everyone, so kind to comment :) x
Posted 10/07/2013 04:52 AM
BARBARA:
Dawn lifting into day, and with such rich imagery...sumptuous Maire !!! BARBARA XXX
Posted 10/06/2013 03:17 PM
TheSilverOne:
I can envision this happening. I read this inspiring poem several times. pure joy.
Posted 10/06/2013 09:56 AM
Janet Leahy:
Lovely to think of the sacredness of morning. My condolences to you Maire, on the death of your Noble laureate Seamus Heaney. His poetry of witness is a treasure, makes us know that poetry matters. We will miss him.
Posted 10/06/2013 08:28 AM
Carol Campbell:
The word "village" pleasantly surprised me at the end of the poem. Since I live in a big city I had other images until then. I was in Wicklow, Ireland last year and can now see the poem in terms of the great beauty of that land.
Posted 10/06/2013 08:27 AM
Dorcas:
It is good to bring our reflections of a new season to mind.
Posted 10/06/2013 07:00 AM
Dorcas:
It is good to be aware of the effects of a new season. Awareness that all is not the same.
Posted 10/06/2013 06:59 AM