Blue mountains lie beyond the north wall;
Round the city's eastern side flows the white water.
Here we part, friend, once forever.
You go ten thousand miles, drifting away
Like an unrooted water-grass.
Oh, the floating clouds and the thoughts of a wanderer!
Oh, the sunset and the longing of an old friend!
We ride away from each other, waving our hands,
While our horses neigh softly, softly . . . 


This poem is in the public domain.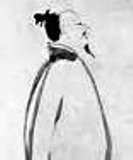 Li Po (702-761) is one of China's best known poets. Also known as Li Bai, this wealthy scholar produced an abundance of work praised for its imagination, imagery, and celebration of simple subject matter. Beloved by rich and poor alike, Li Po spent most of his life traveling around his home country. Generous with his wealth and fond of a good time, Li Po was alternately favored and imprisoned by Chinese royalty. His nickname, "the poem god," came from his alleged ability to produce beautiful poetry quickly and effortlessly. More than a thousand of his poems are still around for us to read and enjoy.
Susan D:
I read this poem today, and just a short time ago today I had learned that someone I knew well so many years ago made her transition. I found this so appropriate. Thank you.
Posted 10/09/2013 07:56 PM
Ginny C.:
I wish I could share a drink and a sunset with Li Po.
Posted 10/09/2013 04:27 PM
Ross Kightly:
The timelessness of the elegiac - thanks for this one; can't go wrong with Li Po.
Posted 10/09/2013 02:41 PM
transitions:
Still relevant; a wonderful poem by the inimitable Li Po...thank you... Judy
Posted 10/09/2013 02:29 PM
KevinArnold:
Yes, full of longing for that which cannot be.
Posted 10/09/2013 10:30 AM
njc:
Thanks for sharing this one; poetry at its best!
Posted 10/09/2013 07:55 AM