A long gown falling
From ridgeline shoulders,
Brushes branches
Jeweled with ice.
Deer-steps beneath pines
Tremble
At the edge of silence.
Light blooms
On cliffs above,
Not orange,
Not gold,
But offering a new day,
More than the sum
Of its parts.†
†
†
This poem first appeared in Avocet.
Used here with the authorís permission.
†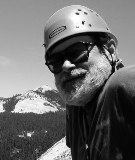 Robert Walton, from King City, California, is retired from teaching after thirty-six years of service. He's also a lifelong rock climber and mountaineer. "My home crags are in Pinnacles National Park, where I've made many first ascents," he says, "and I've also climbed extensively in Yosemite and the Sierras." Much of Robert's writing is inspired by his climbing, but he's also written a novel set during the Civil War. Learn more about him here: http://chaosgatebook.wordpress.com/.
waldo47:
Thank-you all who commented so positively about my poem. I hope to share here again.
Posted 10/16/2013 10:30 PM
Ross Kightly:
As a lifelong acrophobe I am still trembling - but I bet the view was worth it. Thanks, Robert, for taking me where otherwise I would never go.
Posted 10/16/2013 12:47 AM
plgoodman:
Love it, Robert. Exquisite words for a breathtaking scene. Thanks for the uplift.
Posted 10/15/2013 06:06 PM
Carol Hauer:
This made me take a deep breath. Thanks.
Posted 10/15/2013 04:18 PM
John:
Spare and translucent, and the first two lines are stunning.
Posted 10/15/2013 09:10 AM
Donna Pflueger:
Robert, you have captured as only one who has been there can - I experienced each line. Powerful!
Posted 10/15/2013 08:43 AM
paula:
Wonderful language and so spare!
Posted 10/15/2013 06:34 AM