The guitar player watches
intently, with anticipation
and a little smile beneath
watches the guitar player then
its own version of the aria.
All the while the drummer
loving the sun on his face,
listening with his whole body
to the current's deep voice.
© by
Tamara Madison.
Used with the author's permission
.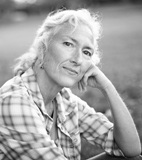 Tamara Madison teaches English and French at a public high school in Los Angeles. Raised on a citrus farm in the California desert, Tamara's life has taken her many places, including Europe and the former Soviet Union, where she spent 15 months in the 1970s. A swimmer and dog lover, Tamara says, "All I ever wanted to do with my life was write, and I mostly write poetry because it suits my lifestyle; I like the way one can say so much in the economical space of a poem."
Dorcas:
interesting how the music goes on and on oblivious to all else.
Posted 12/14/2013 11:16 AM
barbara eknoian:
A unique and lovely observation of musicians. Nice!
Posted 10/18/2013 04:27 PM
paradea:
Just wonderful!
Posted 10/17/2013 08:37 AM
Katrina:
A drama tutor once told me 'Your body is your instrument.' It is amazing how Tamara has tuned in to this. Thank you.
Posted 10/17/2013 07:54 AM
rksanders@charter.net:
This is lovely, Tamara--lovely in so many ways--and deeply moving.
Posted 10/17/2013 05:06 AM