It's been longer coming than usual, 
my Favorite Day of the Year. 
There have been a few prior contenders, 
but none quite met the standard. 
most of the required elements are in place ~ 
dark leafy oak branches splayed against the sapphire sky, 
and crystal clear visibility.
But it takes a few moments
to feel the light, cool breeze 
come sashaying through the big back porch 
It is sweet relief ~ 

even the songbirds herald 

the annual testimony 
to our benevolent Father's Creation.


© 2013 by Pat Malone.
Used with the author's permission.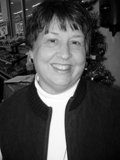 Pat Malone has taught social studies, been a social worker, raised twin sons, run a retail business and, now, in "retirement," volunteers and teaches a ladies' Bible class. She claims she's not a "real" poet (evidence to the contrary!), but her mother was a high school English and journalism teacher, so perhaps her fondness and facility for writing are simply part of Pat's DNA. She and her husband live in Tuscumbia, Alabama—the birthplace of Helen Keller. 
RShepherd:
Thank you Pat for taking me back to those beautiful fall evenings in Killen Alabama - all the way from sunny, sunny Queensland way down under.
Posted 10/28/2013 06:35 AM
phoswald:
Yes, yes. Fall is such a relief here too in southern, California when the hot summer days grudgingly loosen their hold.
Posted 10/26/2013 02:16 PM
KevinArnold:
Ah yes that one day, as important, but less celebrated, than the first day of spring.
Posted 10/26/2013 08:18 AM
Charly:
It is sweet relief! Yes, autumn is..lovely images.
Posted 10/26/2013 06:54 AM
fer:
Ahh, yes -- I, too, wait for this day only I stand on my *front* porch to savor it. Thanks, Pat, for setting it to music (poetry).
Posted 10/26/2013 06:20 AM