They sent him back to her. The letter came
Saying... And she could have him. And before
She could be sure there was no hidden ill
Under the formal writing, he was in her sight,
Living. They gave him back to her alive—
How else? They are not known to send the dead—
And not disfigured visibly. His face?
His hands? She had to look, and ask,
"What was it, dear?" And she had given all
And still she had all—

they had—they the lucky!
Wasn't she glad now? Everything seemed won,
And all the rest for them permissible ease.
She had to ask, "What was it, dear?"
"Enough,


Yet not enough. A bullet through and through,
High in the breast. Nothing but what good care
And medicine and rest, and you a week,
Can cure me of to go again." The same
Grim giving to do over for them both.
She dared no more than ask him with her eyes
How was it with him for a second trial.
And with his eyes he asked her not to ask.
They had given him back to her, but not to keep.
This poem is in the public domain.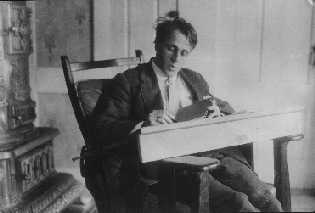 Robert Frost (1874-1963) was born in San Francisco, but moved to Massachusetts with his family after his father's death in 1885 and, ultimately, lived in a number of homes and farms throughout New England. Though he attended several prestigious colleges and universities, he never graduated from any of them. Nonetheless, Robert spent most of his adult life teaching, receiving more than forty honorary degrees, along with four Pulitzer Prizes. Robert's interest in poetry started early; he published his first poem while in high school, sold his first poem at twenty, and by the age of forty, was one of America's best known and best loved poets. Rural life is a consistent theme in Robert's poetry, as is simplistic language that is pleasing to the ear; he felt strongly that poetry was best appreciated when read aloud.
nanjordash:
Beautifully written. A tear in my eye.
Posted 11/12/2013 09:11 AM
Jo:
Deeply felt.
Posted 11/11/2013 10:58 AM
Janet Leahy:
So sad that we are still writing war poems, thank you Jayne.
Posted 11/11/2013 08:03 AM
TheSilverOne:
Every wife, husband,mother, father and sibling who has had someone they love go off to war will feel this poem in their heart.
Posted 11/11/2013 07:50 AM