I've always liked the autumn best –
such vigor before winter's rest,
such color blazing through the land,
such coolness after heat feels grand.
And at the age that I have reached
the autumn has so much to teach:
the ending time is lurking near –
go out with courage, have no fear -
let colors shine while there is light,
when day is gone, then seize the night.


© by Pat Brisson.
Used with the author's permission.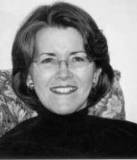 Pat Brisson is a former elementary school teacher, school librarian, and reference librarian in a public library. She has been writing picture books and easy-to-read chapter books for the last twenty years. Pat coordinates Project Storybook, a program at Edna Mahan Correctional Facility for Women in Clinton, New Jersey, which allows incarcerated mothers to select, record and mail books and tapes to their children. She received the N. J. Governor's Volunteer Award in Human Services for this wonderful project. Pat lives in Phillipsburg, New Jersey; learn more about her at www.patbrisson.com.
Nabby Dog:
This is a poem of both wisdom and charm, an absolute delight on a November morning. "Let colors shine while there is light ..." I could not agree more!
Posted 11/15/2013 09:10 AM
paradea:
Love this! One of those to memorize and recite with joy!!
Posted 11/15/2013 08:47 AM
Carol Hauer:
Full of vigor!
Posted 11/15/2013 08:26 AM
KevinArnold:
A refreshing modern dose of rhyme and meter, well done. Thanks.
Posted 11/15/2013 07:57 AM
laurasalas:
Just when I think I'm full up of all the autumn poems to love (it's my favorite season), you share things like Adelaide Crapsey's and this lovely, celebratory-while-still-melancholy poem today. Just beautiful.
Posted 11/15/2013 05:00 AM
Ross Kightly:
Marvellous! There is a lot of balancing up to do about night and this poem goes quite a way toward that correction. What a pleasure.
Posted 11/15/2013 04:23 AM