I wonder if the children in the rowboat
will remember this particular morning,
the lake restlessly turning over
a thousand scintillating points of light
except for one calm, mirror-like swathe
through which the man rows calmly,
his boy and girl looking out
from the prow of the wooden boat,
while all around them little flames
move across the lake, never arriving
anywhere except into this moment
which seems to me closer to heaven
than any other thing that man or god
© by Ginny Lowe Connors.

Used with the author's permission.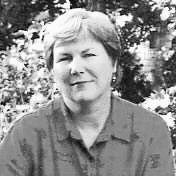 Ginny Lowe Connors is an English teacher in West Hartford, CT, where she has been appointed as that city's Poet Laureate. Author of two published poetry collections and editor of several poetry anthologies, Ginny also runs a small poetry press, Grayson Books. She's won numerous awards, including the Sunken Garden Poetry Prize, the Atlanta Review International Poetry Competition, and numerous prizes sponsored by the National Federation of State Poetry Societies–including their coveted Founders Award. Learn more about Ginny at
www.ginnyloweconnors.com
.
Ross Kightly:
A lovely poem that centres around two enormously potent words: "light" and "moment"! Thanks for another moment of light to treasure, one that has now that happened to me though it never did in my ordinary life.
Posted 12/02/2013 05:23 AM
Joe Sottile:
Bravo!
Posted 12/01/2013 05:40 PM
Judith Heron:
This one precious run-on sentence captures everything one could want to lift up. Hallelujah!
Posted 12/01/2013 12:13 PM
wendy morton:
We need to keep our eyes open for all the little flames of life that arrive.
Posted 12/01/2013 10:51 AM
KevinArnold:
An absolutely breathtaking poem. Bravo.
Posted 12/01/2013 09:18 AM
mimi:
lovely, I am always fascinated by those dancing lights on water...
Posted 12/01/2013 09:08 AM
Donna Pflueger:
You have captured this sight completely. You brought me back to my fishing days and I actually squinted my eyes when I read "a thousand scintillating points of light". Thank you!
Posted 12/01/2013 08:47 AM
rksanders@charter.net:
Your poem puts a picture within me and me within the picture. I'm also familiar with the northeastern corner of CT. Thank you for a lovely morning moment of calm and thankfulness that will go with me for a long time.
Posted 12/01/2013 07:00 AM
Katrina:
This is beautiful. You remember and give the children the resource to look back on it reflectively if, and when, they want to.
Posted 12/01/2013 04:14 AM