My dog's tail,
Like an old brown rope,
Lay across the rails.
I caught my brother's eye.
He shrugged and grinned;
It was worth a try.
Sparks flashed blue.
Full speed ahead!
Owooooooooooo
Eyes bugged out,
Old Blondie leapt
On the Christmas tree
Ornaments fell like colored snow.
My mother screamed, "What happened?"
We don't know.
© by Robert Walton.
Used with the author's permission.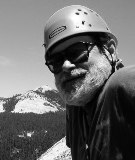 Robert Walton, from King City, California, is retired from teaching after thirty-six years of service. He's also a lifelong rock climber and mountaineer. "My home crags are in Pinnacles National Park, where I've made many first ascents," he says, "and I've also climbed extensively in Yosemite and the Sierras." Much of Robert's writing is inspired by his climbing, but he's also written a novel set during the Civil War. Learn more about him here: http://chaosgatebook.wordpress.com/.
paradea:
Love this poem. I can see it clearly. So much fun! Thanks.
Posted 12/20/2013 09:04 AM
Ralph Murre:
Ahhhh, brothers. Dogs. All of it.
Posted 12/20/2013 08:32 AM
daswan2:
A crystal clear image appears with the words. Thanks for taking me back.
Posted 12/20/2013 08:25 AM