Praise to the early risers who unlock
the doors at 4 a.m., create
lemon blueberry crumble,
orange raisin scones dunked
headfirst in sugar,
oatmeal cookies stuffed
with cranberries and pecans.
Praise to the splash and sizzle
on the grill, smells rising
from childhood¹s deep cache,
when you entered the kitchen rubbing your eyes
and your father kissed you
over the top of his Times,
and your big sister looked ridiculous
with her milk mustache.
Your mother turned to greet you
as if you alone were the sun
while eggs burbled in her pan--
praise to the succulent yellow yolks
that were not yet broken.
From Yaya's Cloth, Iris Press, 2007.
Used with the author's permission.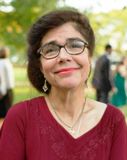 Andrea Potos is the author of five books of poetry, including the newly released We Lit the Lamps Ourselves (Salmon Poetry). A self-professed "book addict," her award-winning work often focuses on women and family. Her Greek grandparents and their spirit have been an abiding presence and inspiration throughout her life and poetry. Andrea lives in Madison, Wisconsin, with her husband and daughter.
wordsmith:
Wonderful!
Posted 11/04/2014 10:16 AM
peninsulapoet:
I love poems honoring ordinary things, which of course, are the really extraordinary.
Posted 11/04/2014 09:41 AM
lincolnhartford:
this poem will still be sizzling after the election results are proclaimed and stored
Posted 11/04/2014 09:26 AM
gretchenfriel:
How simply and beautifully described, a recipe of smells that can resurrect the confidence and security of childhood. Thank you Andrea.
Posted 11/04/2014 09:11 AM
Cindy:
a yummy poem - I could almost smell it
Posted 11/04/2014 09:01 AM
Glen Sorestad:
Love the "splash and sizzle on the grill" and "smells arising from childhood's deep cache"/ Wonderfully apt, Andrea!
Posted 11/04/2014 08:27 AM
mimi:
mouth-watering, tender poem, lovely!
Posted 11/04/2014 07:23 AM
vscholtz:
I can hear the eggs. Thanks for the wonderful picture.
Posted 11/04/2014 06:15 AM