I love you butterly, butterly woman,
who melts in my mouth.
My margarine life is over, thanks to you.
I've never been betterly, butterly one.
Such a spread you are, the best spread,
there before me! I'm toast.
Seeing your hair fan out butterly on a pillow
fattens my feelings.
I want you butterly,
that badly, by the stick,
I want you in a dish,
crystal, from Waterford.
And I love you at room temperature,
a little soft, perfectly responsive
to the slightest touch.
What price butterly?
Only fools ask.
That the heart can pay and pay
and the butterly still be free
is a butterly mystery.
So let's be butterly together,
the basic ingredient
for a sauce extraordinaire.
We'll pour ourselves everywhere
Churning and churning,
not bitterly, no,
but butterly shall we go.
This poem first appeared in Free Lunch. 
Used here with the author's permission.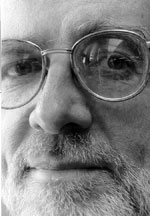 Philip Dacey (1939 - 2016) authored fourteen books and published hundreds of poems in journals and magazines. After teaching for 34 years at Southwest Minnesota State University, he moved to New York City for a post-retirement adventure on Manhattan's Upper West Side. Eight years later, having accomplished all his intended goals there, Philip returned to Minnesota to live in the Lake District of Minneapolis with his partner, the poet Alixa Doom. Learn more about Philip at www.philipdacey.com.
nancilee:
I love this clever word play. I laughed out loud. Haven't read a butter poem in ages.
Posted 06/10/2014 12:06 AM
Jo:
I really love this poem. It's so playful. You never disappoint me.
Posted 06/09/2014 02:47 PM
pwax:
I love it! Beautifully written. Not exactly a mondegreen, but in the same family, I feel.
Posted 06/09/2014 10:40 AM
peninsulapoet:
Utterly delicious.
Posted 06/09/2014 09:56 AM
John:
I've been a fan of Phillip Dacey's poetry since "Mystery Baseball" with the marvelous line, "One man rounds third base, pumping hard, / and is never seen again."
Posted 06/09/2014 09:53 AM
paradea:
Fatteningly fabulous!!
Posted 06/09/2014 08:41 AM
Larry Schug:
This poem is SO Phillip Dacey! Everything he writes is fantastic, such a treat for every bit of consciousness and emotion. If the sparkle in someone's eyes could be written, this is how to do it.
Posted 06/09/2014 07:50 AM
Gilbert Allen:
I guess poems are the errors that our better (butter?) selves aren't inclined to correct.
Posted 06/09/2014 07:32 AM
mimi:
love butter and this poem--thanks!
Posted 06/09/2014 06:31 AM
Ross Kightly:
There is, in this country where I live, a brand of 'spread' called 'Utterly Butterly' which I will now for obvious reasons never look at again without a smile and a guffaw. I dare not for some little time visit my local supermarket for fear of being arrested for holding up a pack from the chiller cabinet and laughing hysterically. Thanks for this!
Posted 06/09/2014 04:23 AM
JoAnn Anglin:
i love the whimsy and intelligent playfulness of this poem! A delight to read.
Posted 06/09/2014 01:52 AM