I have seen the moon rise while nestled in a sleeping bag on Lake Powell,
watched the sun set through a cabin window in Walnut Canyon.
I have bounced across the waves on the rock-hard bench of a Gregor,
thumped up and down on the seat of a Western saddle.
I have been warmed by the fiery evolution of leaves on the San Francisco Peaks,
chilled by the winds of a Flagstaff storm,
splashed by a yellow tail at the end of my line.
I have breathed the scent of
Piñon
pine burning in a chiminea,
inhaled green chiles roasting at the Plaza in Santa Fe.
I have been startled awake by a coyote's yip,
lulled to sleep by water lapping on the sides of a boat.
I have been wowed by the gold of New Mexico's Chamisa,
enchanted by the fierce blue sky above the Sangre de Cristos,
the blending of earth, wood, and stone in your brown eyes.
Because I met you, I have discovered my prime meridian,
a line connecting all that is
© by Donna Pflueger.
Used with the author's permission.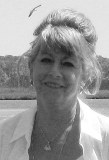 Donna Pflueger is a poet living in the high desert of Cottonwood, Arizona, where her inspiration to write occurs by simply stepping outside (although she admits to being easily distracted by her love of dogs and birds!). Having lived in the Midwest and Southwest, she will soon be contemplating where she would like to spend her retirement years. Recently, Donna's poems have appeared at Your Daily Poem, The Healing Muse, and Möbius the Poetry Magazine.
jlong:
Ohhh, this could have been written for me and my wonderful endurance horse, Lacey. Thank you so much, we shared so many amazing years riding all around the Western States.
Posted 02/03/2014 09:50 AM
Ross Kightly:
All things come down to the one most meaningful thing. I think the accumulation of detail here leading to the climax is utterly virtuoso as well as heartfelt. This is what a poem can do.
Posted 02/02/2014 09:55 AM
Anjie:
I love "splashed by a yellow tail at the end of my line" The movement in this poem is terrific -- this is a fine love poem. Absolutely beautiful!
Posted 02/01/2014 09:34 PM
Jo:
Beautiful poem Donna. At the end of a snow filled and cold day, my heart is warmed by your love.
Posted 02/01/2014 08:50 PM
Donna Pflueger:
Thank you all for your wonderful comments. I am truly touched by them and am pleased that they have, in return, touched you. And to Larry - no, I have not been to Ghost Ranch but you can be sure I will learn more about it now. Again, I thank you.
Posted 02/01/2014 06:44 PM
dotief@comcast.net:
Very nice!
Posted 02/01/2014 04:45 PM
plgoodman:
Beautiful, Donna. I know your husband appreciated it. What a lovely send-off. Thanks.
Posted 02/01/2014 01:05 PM
twinkscat:
Lovely!
Posted 02/01/2014 12:05 PM
chris schulz:
"Because I met you I have discovered my prime meridian, my 0 degrees". Donna, just read to my husband of 45 years and we both shared gasps and knowing smiles. Thank you!!
Posted 02/01/2014 10:53 AM
CamilleBalla:
I like the way the poem takes us to the part about his eyes. Beautiful!!
Posted 02/01/2014 10:52 AM
Dorcas:
How love enhances all we survey. Thank you.
Posted 02/01/2014 10:15 AM
Larry Schug:
I must say I'm partial to anything that has New Mexico in it, having gone to Ghost Ranch i8 times(ever been there, Donna?)but even if I I'd never been to the southwest I'd love this poem. It has so much texture. The second to last verse is a poem of its own.
Posted 02/01/2014 10:07 AM
Sherry:
oh, how beautifully written, especially the part about his eyes...
Posted 02/01/2014 08:14 AM
Janet Leahy:
Wonderful how this poem travels from special places visited to the eyes of a lover, those last two stanzas make a perfect turn.
Posted 02/01/2014 07:46 AM
mimi:
how well I know and love all those places, Donna, thanks for reminding me of them this cold snowy morning..
Posted 02/01/2014 07:06 AM