The seventeen years between us,
that we have not let come between us,
mean I am going to die first.

I will abandon you, cheat you
of the groaning laughter in mutual aches,
the wrinkled telepathy
forged through a many-decades tangle
of conflict and conversation.

Whether the years after my death click away
like the tumble of falling dominoes
or crumble with a slow dignity
like the white ruins of ancient grace,
we know you will be left alone.

In the children of our children,
that you will know so much better than I –
if I get to know them at all –
I hope you will see a little of me

in their devotion to soft walks
on cold evenings in the valley,
holding your hand and enjoying the lingering
of their gray breath as it slides into twilight.

If they laugh too easily and too loudly,
let your head wag behind your smirk
as you cradle yourself in their roar –
the way you do now, whenever I bellow
in amused appreciation of this or that little thing.

Take them to Waterloo Park each summer
and help them find flat stones
for skipping across the shallow Santiam.
Splash with them ankle deep the way we did
right before we kissed for the very first time.

Pack them into the car and race the sunset
so they will know what we have come to know –
the sun descends behind Mary's Peak each night
and, sometimes, sprays red across the sky.


This poem first appeared in Toe Good Poetry (November 2011).
Used here with the author's permission.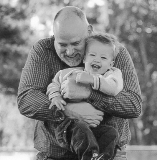 Danny Earl Simmons has lived in the Mid-Willamette Valley of Oregon for more than 30 years. A graduate of Corvallis High School and a friend of the Linn-Benton Community College Poetry Club, he is an active member of the Albany Civic Theater. Read more of Danny's work at http://dannyearlsimmons.blogspot.com/.
jschutz:
Danny's poems are true, and so his experience becomes mine - a poetic accomplishment that is rare.
Posted 02/18/2014 03:11 PM
Jimmy Pappas:
I have read a lot of Danny's poems in various journals, and I am a huge fan.
Posted 02/11/2014 10:49 AM
Ross Kightly:
Yes, the dynamic of that sunset image in the final line is marvellous - for once an adverb that not even the most dyed-in-the-wool minimalist could wish to delete! Sometimes it's necessary to qualify! As a former older husband and [still] older father this speaks to me in a particular way. Thanks Danny and Jayne.
Posted 02/10/2014 03:11 AM
Donna Pflueger:
I had tried so many times to write a poem dedicated to the age difference between my now late husband and myself. You have done so in an absolutely exquisite poem. Beautifully, lovingly written. Please pardon the cliché, but your third stanza took my breath away. Thank you, Danny. He, too, would have been touched.
Posted 02/09/2014 04:32 PM
JanetruthMartin:
Spectacular! I esp. love the ending.
Posted 02/09/2014 03:55 PM
plgoodman:
Beautiful, Danny. Living now without my husband of 47 years, this poems brings tears. My sincere thanks.
Posted 02/09/2014 02:17 PM
anne.lehman2929@att.net:
You have created beautiful images and emotions: Splash with them ankle deep the way we did/ right before we kissed for the very first time. Thank you...
Posted 02/09/2014 01:50 PM
ghctenmile@earthlink.net:
Thanks for this lovely poem.
Posted 02/09/2014 01:17 PM
Don Colburn:
Danny, thanks for this poem, especially "and help them find flat stones/ for skipping across the shallow Santiam." I have a longer question for you. Would you send me an email at doncolburn@msn.com. Again, thanks. I'm a former newspaper reporter and poet in Portland. Cheers. Don
Posted 02/09/2014 01:11 PM
LindaCrosfield:
So deep, so lovely.
Posted 02/09/2014 11:42 AM
twinkscat:
Wonderful. Thanks for sharing.
Posted 02/09/2014 11:17 AM
trailpny:
Wow. This poem is a pure gift to everyone who reads it. Thank-you, and bless you.
Posted 02/09/2014 10:34 AM
Sherry:
This is beautiful.
Posted 02/09/2014 09:35 AM