Winter is five ravens overhead
whirling in a white wind.
Winter is you and me
and the steel-blue lake we walk beside,
her islands disappearing
in veils of snow.
Winter is a white cat,
stalking,
and, finally, the wind at our backs--
a pot of tulips on the table,
pale bodies straining toward the light,
pink-gold faces whispering Spring.

From Crow Ink (Little Eagle Press, 2009).
Used here with the author's permission.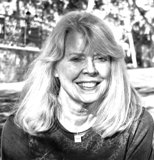 Sharon Auberle is a poet and photographer. She loves water and winter, the subjects of many of her poems, and is happy to be back in the land of her roots—the Midwest—after nearly twenty years in the drought-stricken Southwest. Sharon is the author of four poetry books, two of which also contain her photos, as well as several collaborations of her photos with other poets. When not writing or out in the woods, Sharon can be found on Facebook or hanging poems and pictures at her website, Mimi's Golightly Café. She freely admits that both take time away from her poetry. Learn more about Sharon here.
Donna Pflueger:
I cannot get these incredible images out of my head - especially the tulips. So vivid. Your poem has given me a fresh personality for winter and I thank you.
Posted 02/12/2014 03:28 PM
mimi:
thank you everyone for your kind comments...and keep your fingers crossed for an early spring!
Posted 02/12/2014 03:27 PM
wendy morton:
Like us, the tulips strain toward the light in this season of ice. Wonderful.
Posted 02/12/2014 10:10 AM
peninsulapoet:
Another beautiful, true poem by one of my favorite poets. Donna
Posted 02/12/2014 08:57 AM
Jo:
Your poem says it all. What a great way to start my day. Thanks, Sharon.
Posted 02/12/2014 08:40 AM
Ralph Murre:
Yes, always toward the light.
Posted 02/12/2014 08:03 AM
TheSilverOne:
Beauty and hope on this winter day. Thank You, Sharon. ~~~ Doris
Posted 02/12/2014 07:36 AM
rksanders@charter.net:
Lovely and hopeful. Thank you, Sharon.
Posted 02/12/2014 06:55 AM
jeanie:
beautiful, sharon! (but one must have a winter picnic before it's over)(see you saturday!)
Posted 02/12/2014 06:46 AM
Gary Busha:
Yes. Timely and perceptive imagery.
Posted 02/12/2014 06:16 AM
Wilda Morris:
Perfect, Sharon, especially for Valentine's Day, 2014. Wonderful images! We need those whispers!
Posted 02/12/2014 05:39 AM