No more than the bird with piercing voice
can cause the tree a swifter limb to grow,
can your cries move me to change my mind.
Though snake, with hiss both sibilant and low,
convince the flowing river to change its course,
and frog, with throat-inflating croak, turn
Winter's mind to holding back the snow,
still will I not go against my nature so.
Cry however loud you will, but know
my ears are deafened by that decibel
and though your young heart yearns for this request,
the thing you seek from me I'll not bestow -
a mother must needs do what she deems best -
my answer is and ever shall be no.
© by Pat Brisson.
Used with the author's permission.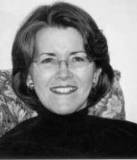 Pat Brisson is a former elementary school teacher, school librarian, and reference librarian in a public library. She has been writing picture books and easy-to-read chapter books for the last twenty years. Pat coordinates Project Storybook, a program at Edna Mahan Correctional Facility for Women in Clinton, New Jersey, which allows incarcerated mothers to select, record and mail books and tapes to their children. She received the N. J. Governor's Volunteer Award in Human Services for this wonderful project. Pat lives in Phillipsburg, New Jersey; learn more about her at www.patbrisson.com.
joecot:
Two years late, I come upon this Such bliss wonderful poem
Posted 09/23/2016 12:02 PM
Emuse:
Skilled and deft rendering. Absolutely delightful!
Posted 03/06/2014 09:57 PM
tannerlynne:
OH I LOVE IT! what fun and so well said.
Posted 02/17/2014 10:01 PM
Jo:
Shakespeare would be pleased. How clever! I loved it.
Posted 02/17/2014 06:14 PM
Dorcas:
The method would come across without such a long title. Full of humor and reason.
Posted 02/17/2014 12:45 PM
KevinArnold:
What fun.
Posted 02/17/2014 11:40 AM
peninsulapoet:
Love it!!!
Posted 02/17/2014 11:35 AM
twinkscat:
Wonderful!!
Posted 02/17/2014 11:18 AM
debrabruce:
Excellent--you get the tone just right, and I admire the meter and the way you handle the sentences. Lots of fun to read--
Posted 02/17/2014 10:29 AM
TheSilverOne:
What a hoot! Clever and such a joy to read.
Posted 02/17/2014 10:13 AM
gailcomorat:
Love this!
Posted 02/17/2014 08:41 AM
Nabby Dog:
This is a wise and witty poem and I love how Pat sustains the Shakespearean rhetoric throughout. It's wonderful to meet the day with a poem so graced with craft and insight.
Posted 02/17/2014 08:12 AM
KarlaLinn:
Wonderful use of Shakespeare's voice!
Posted 02/17/2014 08:09 AM
erinsnana:
I love it!!
Posted 02/17/2014 08:06 AM
mimi:
smart and fun poem!
Posted 02/17/2014 07:34 AM
lincolnhartford:
Had I thought to employ the bard, would I have found the words, the spine, the resolve? Alas, no matter; the young are all addicted. They find ways to do what they will do. Enjoyed your poem with laughter in the morning.
Posted 02/17/2014 06:28 AM
gigi:
Funny, touching, current, crafted, excellent. Hope the daughter got the message.
Posted 02/17/2014 05:44 AM
r1manchester:
clever, clever
Posted 02/17/2014 05:08 AM
phebe.davidson@gmail.com:
Brava!
Posted 02/17/2014 05:06 AM