We start by fanning out the money, colored 
like Necco wafers: pink, yellow, mint, gold.
From the first roll of the dice, differences widen:
the royal blues of Boardwalk and Park Place
look down their noses at the grapey immigrants
from Baltic and Mediterranean Avenues.
My grandparents coming from Italy in steerage
measured their gold in olive oil, not bank notes
and deeds. The man in the top hat and tuxedo
always holds the good cards. The rest of us
hope we can pay the Electric Company.
We know there is no such thing as Free Parking, 
and Bank Errors are never in our favor.
In the background, Johnny Mathis croons


Chances Are

 from the cracked vinyl radio.
We played for hours, in those years
before television, on the Formica table,
while my mother coaxed a chicken,
cooking all day on the back burner, to multiply
itself into many meals. The fat rose to the surface, 
a roiling ocean of molten gold.
From Gold (Cascade Books, 2013).
Used with the author's permission.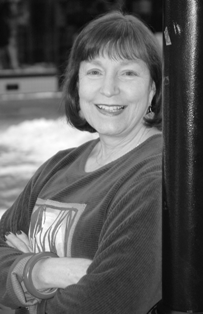 Barbara Crooker's poems have appeared in numerous magazines, journals, and anthologies and have been featured on the BBC, the ABC (Australian Broadcasting Company),

 

The Writer's Almanac

, and in the Poetry at 

Noon

 series at the Library of Congress. Her awards include the Thomas Merton Poetry of the Sacred Award, three Pennsylvania Council on the Arts Creative Writing Fellowships, fifteen residencies at the Virginia Center for the Creative Arts, a residency at the Moulin ŕ Nef in Auvillar, France, and a residency at The Tyrone Guthrie Centre in Annaghmakerrig, Ireland. 
Barbara lives in Fogelsville, Pennsylvania
;
read more about her at 
www.barbaracrooker.com
.
erinsnana:
I love this poem! My sons played many games with my husband and I before they left for college. I still have a monopoly game on a shelf in the basement!
Posted 02/24/2014 11:03 AM
wendy morton:
We still know there is no such thing as free parking. A golden poem.
Posted 02/24/2014 10:10 AM
Ralph Murre:
My real-life situation has always been in the neighborhood of Ventnor Avenue, but I suppose I'll have to admit that while I think socialism may be a better life-style, it may not make much of a board game. Great poem.
Posted 02/24/2014 09:27 AM
Jo:
A poem I've always liked. And enjoy reading again.
Posted 02/24/2014 08:36 AM
Charly:
We still play, my son and daughter-in-law and grandkids..every New Years Eve...love this poem!
Posted 02/24/2014 08:28 AM
Marilyn L Taylor:
I know this poem and love it, Barbara.
Posted 02/24/2014 08:23 AM
dotief@comcast.net:
I do love the many layers of meaning in this poem. It took me back into a past I could relive and cherish. Great poem!
Posted 02/24/2014 07:59 AM
Wilda Morris:
Yes, my sister and I played for many hours with our cousins. I learned to hate the game, because I felt so greedy when I played. I hoped my children, who were not good at putting pieces back in the box would lose enough deeds to justify tossing it in the trash. But here I am again, playing with grandchildren, having a great time. Thanks for a beautifully expressed recollection of the old game.
Posted 02/24/2014 07:45 AM
mimi:
I am there with you! Now and then we play the "new & improved" electronic version which just isn't the same...(and o Johnny) thanks Barbara! Sharon Auberle
Posted 02/24/2014 07:40 AM
r1manchester:
boy, that somehow sounds so familiar,but we did grow up to be able to pay the electric bill. thanks, barbara
Posted 02/24/2014 05:37 AM