Many tell tales of ghostly calls at dusk,
a winged shadow swooping overhead
and pigeon feathers to be swept aside at dawn
Those who believe— players of chess, nannies
commuters, and skateboarders—wait
for the man who knows, the one who carries
binoculars, He is the seer whose whispers
inform the watchers that high above
So His followers stand close and look up,
peering up through the sturdy limbs and broad leaves
of the plane trees, those rough barked giants
that thrive in the chaos of city life
The young listen and imagine the fantastic
While the old recall farms of childhood, barns
and orchards, lonesome hooting at night
All hope for a sighting, the possibility
of owlets as the name of the great bird
is whispered from person to person, savored
and repeated like a mantra as the gathered
picture life nesting safely overhead,
the marvelous so close to the sky
© by
Kathleen Phillips.
Used with the author's permission.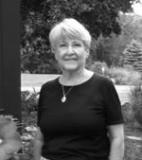 Kathleen (Katy) Phillips is a wife, mother, grandmother, former teacher and current creator of poetry and childrenís literature. Writing didnít enter her life until she was in her mid-sixties, but has provided a wealth of excitement and learning ever since. Katy has written eight books of poetry (which she handcrafts and sells locally), participated in several ekphrastic poetry projects, and has had work published in a number of journals and anthologies. She and her husband of 50+ years moved from the country to the city a couple of years ago and. to their delight, have been enjoying one adventure after another.
†
rhonasheridan:
Thank you so much Katy for your lovely poem. I have a passion for owls, they do sometimes visit some very strange places.
Posted 04/03/2014 05:05 AM
mary.peters.wi:
Katy, I was about to say '"you've captured..." but in truth, you've liberated hope and wonder and awe. Thank you for sharing your insight!
Posted 03/31/2014 06:58 PM
rksanders@charter.net:
I read this to myself in a whisper and loved the music of the sounds, the feel of my breath on my lips, the back and forth of the "mmm" and the "ppp" sounds, the visuals that follow along all the way through. Thank you for the wonder of this poem.
Posted 03/29/2014 08:27 AM
paradea:
Just beautiful!
Posted 03/28/2014 12:25 PM
AllegraSilberstein:
I love the line "While the old recall farms of childhood"...I remember the Wisconsin farm where I grew up.
Posted 03/28/2014 11:49 AM
chris schulz:
Yes, the seer; the one with binoculars, he reminds us to find what isn't there. Love this Katy!
Posted 03/28/2014 10:12 AM
wyantjl42:
Very good poem. For me at least, its real theme is faith versus credulity with the hope of sighting the great horned owl suggesting the need and desire to believe.
Posted 03/28/2014 09:48 AM
Maryann Hurtt:
Katy, Love the wonder of this poem!
Posted 03/28/2014 08:48 AM
TheSilverOne:
That mysterious wildness beyond the city bustle...wonderful. ~ ~ Doris B
Posted 03/28/2014 08:30 AM
tiddles:
Your poem is full of the mystery and hope that communing with nature in the city brings. A wonderful poem, Katy! Thanks. Marilyn Windau
Posted 03/28/2014 08:08 AM
dotief@comcast.net:
Very nice! I love the almost religious quality of the ceremony of the watching. Wonderful use of images! I was caught up in the reverence of the city folk.
Posted 03/28/2014 08:00 AM
Janet Leahy:
Nature wins again, even in the city, a delightful poem, I can see it all especially "the "believers." Thanks Katy.
Posted 03/28/2014 07:39 AM
paula:
Wonderful that you remind us to look for what we don't expect. Lovely language.
Posted 03/28/2014 07:35 AM
Larry Schug:
I'm going to keep and savor this wonderful poem, so inclusive and thought-provoking. Thank you, Kathleen.
Posted 03/28/2014 07:32 AM
pwax:
Good one, Katy! Wonderful picture!
Posted 03/28/2014 07:31 AM